During trip preparations, you might realize your car trunk doesn't have enough space for your luggage. Although it may look enormous when empty, space quickly fills up. Besides, some bulky things can't fit in the trunk, even in the SUVs known for their spacious design.
Luckily, there is a solution. By attaching roof racks, you can get additional space for your cargo and comfortably carry bikes, kayaks, ski equipment, more luggage, or anything else. Additionally, customized roof racks will fit your car like a glove and provide you with precisely what you need.
In this article, we'll look at some of the best roof racks. If you're searching for one, keep reading.
1. Rhino-Rack Vortex StealthBar Roof Rack
Since most roof racks fit only a specific car roof type, you need to get a new roof rack every time you upgrade your vehicle. Rhino-Rack's Vortex StealthBar customizable roof rack is the best solution if you're someone who likes to change cars often.
This Rhino-Rack roof rack features adjustable locking straps, making them perfect for any car type. So, no matter if you're driving a sedan, SUV, hatchback, or SUV, simply use the adjustable straps to tighten the racks for a perfect fit. With a max load of 176 pounds, you're set for your next big adventure.
2. Thule Roof Rack System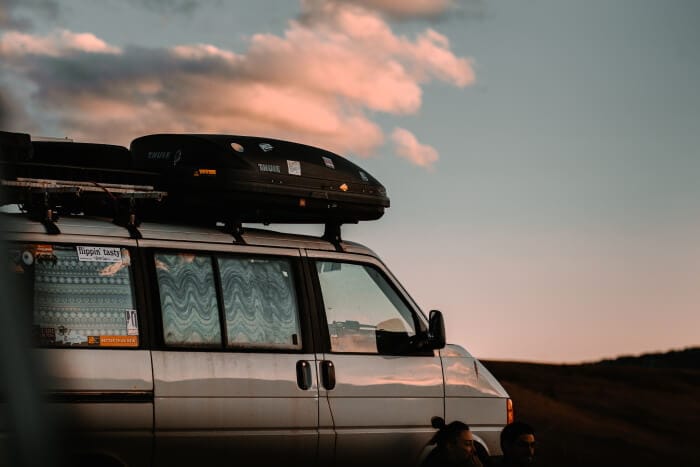 While roof racks often ruin sleeker car design's aesthetics, that's not the case with Thule Roof Rack System. Their timeless and straightforward roof rack style will fit just about any car on the market, aesthetically and practically.
With two minimalistic crossbars, the curved design will add to the aerodynamic value and minimize noise during travel. Besides that, you'll also get four base feet to mount the roof rack on the top of your car. Since there's no drilling or permanent modification required, you can easily use the same set on a different car.
3. Vault Cargo Management Roof Rack Crossbars
Vault Cargo Management also came up with an exquisite example of universal roof racks. With their design covering all roof rails that are up to 47″ apart, you can use them with almost any car. Their racks aren't only versatile but protective of your gear and vehicle too.
Namely, the design features padding on the clamps to protect your car's roof rails and rubber strips along their length not to damage your luggage and equipment at high speed. These roof racks also come with a contemporary lock mechanism, so you can be assured no one will steal them.
4. Whispbar Through Bar Roof Rack System
The difficulty arises when car owners start looking for roof racks that don't need previously installed roof rails. If you're someone who will need roof racks just every once in a while, you don't need to spend money on rail installation. Rather, go for roof racks that don't require roof rails, such as Whispbar Through Bar Roof Rack System.
You'll get four towers that'll easily hold the racks without roof rails, and the SmartFoot cushioned mounts will prevent any permanent damage from happening during the installation process. With an above-average capacity of 220 pounds, you can take just about anything on your next journey.
5. Rhino-Rack 2500 Series
Similarly, Rhino-Rack 2500 Series is another roof rack design you'll want to check out if your car lacks roof rails. In that case, the roof racks mount above the front and back doors, but they can be adjusted to fit roof rails too.
Highly versatile, these Rhino-Rack racks will fit just about any car, and they come in 4 different sizes. Furthermore, they feature a state-of-the-art locking mechanism, so you can leave them unattended. Perfect for bulky items such as kayaks or sporting equipment, the Rhino-Rack 2500 Series is the ideal pick.
6. Yakima JetStream Crossbar
If you're looking for versatile and simplistic roof racks that won't affect your aerodynamics as much, then Yakima JetStream Crossbar is a perfect choice. With several size options available, these affordable racks will fit anyone's budget and car roof, with or without rails.
Featuring lightweight aluminum construction and tapered and sleek design, Yakima's JetStream minimally affects the vehicle's aerodynamics. It doesn't add to the vehicle's total weight, and the tapered edges enable swift movement through the air. Additionally, these racks have quiet performance even at the highest speeds.
7. SportRack Complete Roof Rack System
Just as its name suggests, SportRack's Complete Roof Rack System is ideal for carrying sports equipment such as kayaks, bikes, canoes, ski equipment, but any other luggage too. Although the design features square racks that decrease the vehicle's aerodynamics and increase noise, the flat surface is often needed for better versatility and higher cargo security.
Roof rails or not, these sporty racks fit any car type due to their universal design. Besides, you don't need any tools for the installation, and the entire construction can be locked to the roof of your car.
Conclusion
In sum, getting roof racks is an excellent investment whether you're often traveling, moving, or just going on a picnic. They can provide you with a lot of additional space, so you can easily carry more things at once. Furthermore, by choosing customizable roof racks, you can upgrade your car without worrying whether you'll need to buy new racks in the future.