The interaction between humans and electronic devices has increased as people depend more on electronic machines to complete daily chores and communicate.
This interaction is evident in an average modern home with washers, cookers, entertainment devices, and smartphones. This dependency increases temporarily during holidays, mainly for lighting, home repairs, and hosting outdoor events.
Therefore, you have to find more electrical outlets in your home to satisfy this demand by getting an extension cord and maintaining safety.
However, extension cords are functionally different. Therefore, you should consider going for the most used extension cords for your device when searching for the right extension cord gauge. Otherwise, you risk buying the wrong cord for your home.
How to Choose an Extension Cord
Every homeowner should know how to choose a good extension cord considering the potential danger of buying the wrong cord. There are two main ways of choosing the right cord:
Length – the length of your cord influences the voltage drop due to resistance—a longer cord results in more resistance and a higher voltage drop. Therefore, unless you need to get electricity far away from your wall socket, it is better to have a shorter extension cord.
Wire Gauge – the gauge is the diameter or thickness of your cord's wire. Wire gauge influences the amount of current an extension cord carries and how much it can heat. There are three wire gauges. These are light-duty, medium-duty, and heavy-duty gauges.
Despite these, you might still experience difficulties when selecting the right extension cord. Luckily, you can overcome this problem by selecting one of the popular extension cords to use at home.
Maximm Cable Rotating
Maximm extension has outstanding features that make it an ideal indoor cord. Its white color and flat plug cable design make it easy to merge with your home's interior decor, for starters. It does not form a bump on your interior wall as most cables do. This cable has a rotate and repositioning feature for easier cable management.
You may use the Maximm extension cord indoors. Even so, do not load it with high-amp devices and appliances because its 1625 watts and 13 amps make it an ideal extension cable for gaming PCs.
Maximm is an excellent cord for any homeowner who wants to power devices that need extra reach while maintaining the beauty of a home's interior decor.
US Wire and Cable 74050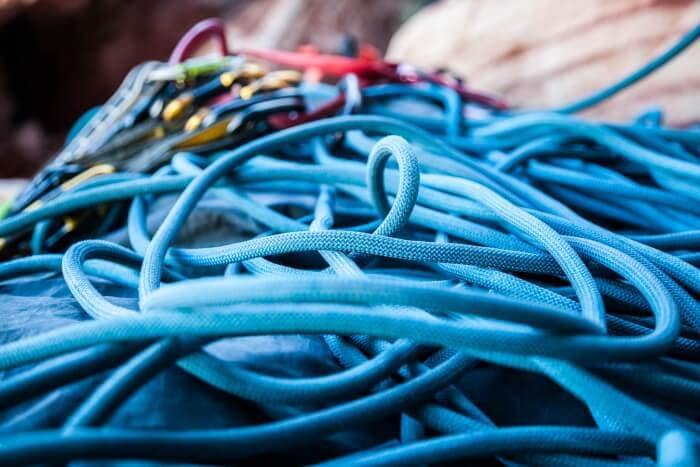 Arguably, the US Wire and Cable 74050 is the most versatile cable for your device. It packs a 12-gauge wire that delivers 1872 watts and 15 amps of energy to power all your home devices that need an extra reach. Unlike most cables, it comes with illuminated ends to show when it is receiving power. With this power, you can work on your home renovation project, charge devices, and keep appliances on without the fear of overheating.
Additionally, the cable is wrapped neatly in a vinyl sleeve that protects it from elements and allows it to maintain its flexibility in extreme weather conditions.
Iron Forge Cable Illuminated Extension Cord
Iron forge cable is a good heavy-duty extension cord with 1,875 watts and 15 amps power capacity. It can use this power to drive tools, devices, and home appliances safely.
The Iron forge packs a 10 gauge wire to provide consistent power for big and small projects. Additionally, it can withstand heat in ways that other extension cords can not.
Watt's Wire 14 Gauge Heavy Duty SJTW Lighted Triple Extension Cord
Watt's wire 14 gauge is the right extension cord to use when you want to power high-energy consuming home devices in any weather condition. It comes wrapped in an SJTW thermoplastic outer layer that protects a 14 gauge power wire and is rated for extreme weather conditions, between -40° to 130° Fahrenheit.
This extension cord meets OSHA's quality standards for both outdoor and indoor use. It is the ideal cord to use when hosting outdoor events and when you need to power two or three large appliances all at once. Despite this, it has a triple, multi-tap outline that makes it easy for you to attach bigger plugs with built-in surge protectors adjacent to each other.
Like safest and versatile cords, the watt's wire 14 gauge heavy-duty SJTW lighted triple extension cord is expensive.
Ultra Pro Double Insulated Cord
The ultra pro-double-insulated cord has a 125 volts, 13 amps, 1625 watts energy capacity, and double insulation for longevity. It has 3 power outlets that can safely satisfy your outdoor power needs. As a safety feature, this cord comes in orange and black for easy visibility and proper concealment, respectively.
Final Thoughts
Extension cords play an important role at home, especially in homes where there is a need to extend the power supply to certain places. This article provides you with options that you should consider when choosing your outdoor and indoor extension cord for your device.