The jewelry we wear every day helps to express our personal taste and style, and it can even become a part of who we are. And while it might be exciting to try the latest trends and fads, fine jewelry is always the best option when you are looking for high-quality, long-lasting, and sentimental pieces. However, unless you are a jeweler yourself, shopping for fine jewelry can often be a difficult task, with an abundance of different options and even more new terminology to get acquainted with.
So, to help you make a better and more informed decision, here are some basic guidelines you should follow when buying fine jewelry:
Learn the important 4 Cs
Diamond jewelry is one of the most classic, popular, and beautiful choices, but it can also be quite difficult to shop for, especially if you've never bought diamonds before. For that reason, you should be familiar with the "4 Cs of diamonds" before you make a final decision:
Cut: While you might expect this refers to the shape of the diamond, the cut actually represents the way the diamond's facets interact with light to create brilliance and sparkle, with a higher brilliance meaning higher quality and price.
Color: The color of diamonds actually refers to the absence of hues, with the higher grade having less color. The grading system ranges from D (colorless) to Z (yellow).
Clarity: This aspect represents the purity of the diamond, offering a grading system that includes any possible inclusions or blemishes on the stone. The higher the clarity, the higher the quality and price.
Carats: Being a unit of measure, carats represent the weight of the diamond. In most cases, a larger carat weight also represents a higher price.
When shopping for diamonds, paying attention to the 4 Cs is a simple way to compare different stones, understand the varying options and pricing, and make a more suitable choice to your preferences and needs.
Consider lab-grown diamonds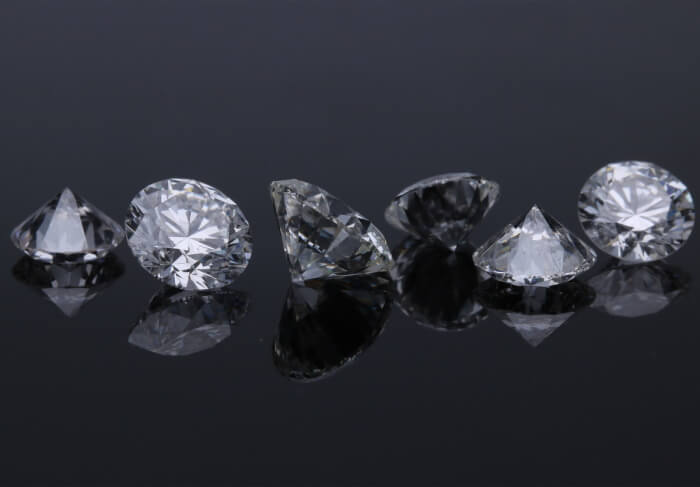 Made by replicating the natural process of diamond creation, lab-grown diamonds are man-made alternatives that mirror natural diamonds by displaying the same chemical and visual characteristics. As they simulate natural diamonds quite well, lab-created diamonds often offer the same array of shapes and carat clarity, looking nearly identical to the untrained naked eye, and are a great choice for a first-time fine jewelry purchase.
Coming at a significantly lower price point, premium lab grown diamonds are a beautiful option for anyone who is looking for more accessible luxury. Similarly, lab-created diamonds are also a more ethical and sustainable choice, as they don't include any human rights concerns that are often tied to natural diamond mining.
Think about the metals
Being the most popular option overall, gold is often prized for its timeless beauty. Pure gold is 24 karats, with lower numbers representing the percentages of gold combined with an alloy. While all gold is naturally yellow, alloys might be added for extra strength or even to change color. For instance, gold is alloyed with copper to create rose gold, or silver, nickel, or palladium to make white gold, both quite popular choices.
Silver is another well-known metal that has a beautiful white shine, but it is prone to oxidation and tarnishing, which is why rhodium is often added to improve its luster and expand its lifespan. On the other hand, platinum is also a popular white metal, although it can often be more expensive than gold due to its weight and purity. While all metals have their benefits and disadvantages, the final choice should always come down to your personal taste and preferences.
Choose the correct setting
The setting refers to the entire piece of jewelry surrounding the gem, significantly adding to the design and the overall visual appeal of the piece. But apart from looking aesthetically pleasing, the setting should also keep your stones safe and secure, which is why it's essential to look for good craftsmanship.
The piece should feel even and smooth, with no roughness or sharp edges. The gems shouldn't be overlapping, tilted, or crooked, but rather sitting neatly and securely. While the prongs should be facing downward, touching the stone's surface, the bezel setting (metal frame around the gem) should be even in width, symmetrical, and smooth. It's also advised to check whether any clasps are safe, secure, and easy to handle.
Evidently, investing in fine jewelry can often be a difficult process, especially for first-time buyers. But as long as you opt for established and reputable jewelers, look for proper certification, and keep these helpful tips in mind, you will certainly make the right choice.