Gaming, just like everything else under the sun, has gone mobile.
You no longer need to be rooted to a desktop computer or attach an additional box to your TV to experience the adrenaline boost triggered by colonizing planets and completing rescue missions!
Though mobile gaming has come a long way, it falls short on the screen size required for an immersive gaming experience.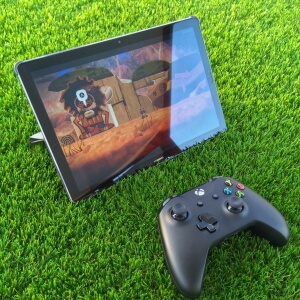 This leads us to tablets – the middle ground with the portability of a mobile phone without shrinking the screen too much.
What are the best gaming tablets for 2023?
There are dozens of tablets available in the market, and choosing the right one, especially for gaming, needs careful consideration.
In this article, we review the top gaming tablets available in 2023, highlighting what works and what doesn't for each.
Preview
Editor's Choice
Best Android Tablet
Best Windows Tablet
Chip
Intel Core i3 or i5 or i7
Editor's Choice
Preview
Best Android Tablet
Preview
Best Windows Tablet
Preview
Chip
Intel Core i3 or i5 or i7
1. Apple iPad Pro – Best Gaming Tablet 2023
When it comes to mobile electronics, you just cannot leave Apple out!
Irrespective of the category it plays in, be it mobile phones, watches, or laptops, it always finds its way to the top, thanks to the brilliant specs that are optimized to work together and deliver the best user experience.
And the Apple iPad Pro is the best gaming tablet for 2023!
Highlights
Amazingly clear picture quality
Fast-loading and lag-free graphics
11″ display
Internal storage options range from 64 GB to 1 TB
Uses Face ID
Specs
Apple loyalists complain that the iPad has historically lagged behind the iPhone when it comes to processing power and the latest operating system.
The good folks in charge at Apple have addressed that with the iPad 11 Pro!
The new tablet has:
More speed, smoothness, and computing power
A lag-free display
The versatility of the octa-core A12Z bionic chip
All of this works wonderfully well with the optimized iPadOS v14 Operating System.
The older versions offered a choice between 4 GB and 6 GB of RAM, but the latest edition offers a standard 6 GB RAM variant only.
There are other features to choose from as onboard storage ranges from 64 GB to 1 TB, and there are Wi-Fi only as well as Wi-Fi + cellular models.
There's no extendable storage, as is the norm with Apple devices.
Display and audio
Apple has done away with the Touch ID in favor of Face ID, allowing them to shrink the bezels:
The overall dimension of 9.75in x 7.03in x 0.23in has thin but noticeable bezels around it.
However, the display size of 11″ works like a charm and its excellent quality is the reason this tablet is our #1 choice for 2023:
A retina display of 1668 X 2388 pixels provides amazing clarity, and a refresh rate of 120 Hz means you will never miss a frame. In case you want a larger screen, a 12.9-inch model is also available.
The onboard speaker does a good job of playing sound in Dolby Atmos and Dolby Digital Plus clarity, though gaming enthusiasts might find it to be on the lower side.
Ports and Connectivity
Keeping with the trend of premium devices, Apple has done away with the headphone jack that might turn gamers off. Not everyone will incline to buy compatible wireless headphones on top of an expensive tablet.
There are other connectivity options, such as a brand new USB-C port.
You can use it to:
Connect external mirrors
Charge other devices with up to 7.5 W power
Import photos from other devices such as cameras (Learn photography with LartDeLaPhoto.fr)
However, it is not a generic USB-C port, so it has its limitations, i.e., you cannot use a flash drive to transfer data.
You can pair the iPad 11 Pro with many useful accessories like the Apple Pencil and AirPods. Considering all of the above, it really is the best tablet for gaming!
Battery life and weight
The Apple iPad Pro weighs around 1 pound (~ 470 grams), which is in line with other available options. Curved design makes it appear lighter while holding.
There is a non-removable Li-Po battery (28.65 Wh) to run the show, and it supports 18 W fast charging. It lasts 10 hours on average and graphics-intensive games would bring that time down to about 6 hours.
WE LIKE
Excellent picture quality
Thin screen bezel
Fast and smooth-running processor
Different internal storage options
USB-C charging
Lightweight at around 1 pound
WE DON'T LIKE
No headphone jack
No extendable storage
Accessories need to be purchased separately
Samsung never holds back punches in the premium mobility device segment, and the Galaxy Tab S6 is a worthy flagbearer to the company's efforts.
The S6 is the best Android tablet for gaming, so if you're looking for a premium gadget that delivers the ultimate gaming experience and can also get some work done, you must check this one out.
Highlights
Superfast processor
Excellent graphics & picture quality
The internal storage can be extended
10.5″ display
Up to 15 hours of battery time
Specs
Samsung's S6 Android gaming tablet gets 9 Pie out of the box with Samsung's own One UI 1.5 running on top of it. Samsung smartphone users will completely feel at home with it, thanks to the One UI program.
Samsung has not cut any corners in the computing power area, loading the tablet with a flagship octa-core Snapdragon 855 processor clocked at 2.8 GHz.
Together with an Adreno 640 GPU, the performance is magical, as it handles resource-intensive games without any frame freezes or lags.
There is 6 GB of RAM (some geographies also get an 8 GB variant) that handles the most intensive games with ease.
128 GB of internal memory (a 256 GB variant is also available) with an extendable memory that can handle up to 512 GB data ensures you won't run out of storage any time soon.
Display and audio
The 10.5″ super AMOLED display aesthetically lights up the 1600 x 2560 pixels. Screen to body ratio of 82% yields a pixel density of 287 pixels per inch that works beautifully with the high-end hardware and produces nearly 16 M colors.
The visuals are clear, and the 120 Hz refresh rate makes for delightful screen experience. The quad-speaker system nicely tops off the top of the line hardware, making it the perfect gaming companion.
Ports and Connectivity
There are plenty of wireless connectivity options like:
Bluetooth 5
Dual-band Wi-Fi 802.11ac
4G VoLTE
For connecting external devices, there is a USB Type-C port that works well with most other devices, unlike Apple.
Connectivity with external accessories such as a keyboard, TV, projector, monitor, flash drive, power bank, etc. works like a charm, so you never feel isolated.
Samsun's Tab S6 is another premium device that has fallen prey to manufacturers' no headphone jack philosophy, but that can be sorted with an adapter.
Thankfully, the S-Pen is included with the tablet, and it shines. It gives another dimension to convenience as it transforms the tablet into a productivity powerhouse and extends its use far beyond gaming.
Battery life and weight
The tab gets its power from a 7040 mAh Lithium battery that charges quickly with the supplied 15 W charger. It will last about 15 hours of continuous video playback.
However, playing games like PUBG with the highest resolution will drain the battery in less than 6 hours.
WE LIKE
Fast 2.8 GHz Snapdragon processor
Excellent graphics
Extendable memory
Quad-speaker system
Comes with the S-pen
Microsoft has not given up on its efforts to penetrate the Android and iPhone dominated premium tablet space. Surface Pro 7 is another iteration, but then, it is not quite the leap one would expect at this price point.
Read on for details.
Highlights
Crystal clear visuals and vivid colors
12.3″ display
Internal memory ranges from 128 GB to 1 TB
Up to 16 GB RAM
Large screen
Specs
The Surface Pro 7 is the best Windows gaming tablet and is running the latest Windows 10 Home version 1909 right out the box. We are pretty sure it'll be eligible for timely updates for at least a couple of years. Windows PC users will feel at home!
Thankfully, you can choose between different processors:
Intel Core i3
Intel Core i5
Intel Core i7
There is welcome flexibility in memory configurations as well:
Take your pick from a spread of 4 GB or 16 GB RAM variations and internal memory of 128 GB to 1 TB.
Display and audio
We liked the 12.3-inch PixelSense display that packs in 2736 X 1824 pixels.
Microsoft is yet to move to OLED displays, which is a big letdown at this price point. The screen is bright enough at 396 nits, which works well until you take it out in sunlight.
GPU is an integral component of gaming devices, and the Iris Plus 940 GPU does not let you down even under the most complex games. You will enjoy crystal clear visuals with vivid colors and perfectly synchronized frames.
The speakers do the job well for a short Netflix/YouTube session but do not expect hours of immersive gaming experience. You are better off buying separate speakers for head-banging bass and party music.
Battery life and weight
A 43.2 Wh of onboard battery is a disadvantage that cannot be covered up. Lasting just under 8 hours for continuous Wi-Fi-based internet surfing and low-volume music, it is a downgrade compared to Surface 6. It's also pretty heavy at 1.7 pounds (or ~ 770 grams).
The loss in battery life can be attributed to the large screen size but can be a deal-breaker for gaming enthusiasts.
Ports and Connectivity
The new Surface Pro finally has a USB Type-C port in addition to a card reader and Surface Connect.
But the best part?
It is one of the few tablets that still has the much-needed 3.5 mm audio jack! Kudos Microsoft for not falling prey to the unwarranted fad of doing away with the headphone jack on premium devices!
You will definitely enjoy the performance of this Windows tablet, and the kickstand is an essential inclusion.
That said, Microsoft is as guilty as Apple when it comes to selling experience-defining accessories such as Surface Signature Keyboard and Surface Pen separately, which will push your cost further.
WE LIKE
Excellent graphics
Choose between different processor and internal memory options
Comes with the audio jack
Large display at 12.3 inches
WE DON'T LIKE
You need to purchase useful accessories separately
Under 8 hours of battery life
Heavy compared to other high-end gaming tablets
4. Apple iPad Mini – Best Small Tablet for Gaming
The Apple iPad Mini is the best tablet for gamers if you are in the market for a less expensive alternative to the flagships reviewed earlier.
Highlights
A mini version of the iPad Pro
7.9″ display
Super lightweight
Up to 256 GB internal storage
Only 3 GB of RAM
Specs
The iPad Mini runs on the iOS 12.1.3 and gets the powerful A12 Bionic chip built on 7 nm architecture. It does a good job of multitasking and handling complex games, as it is designed to be a miniature version of its pricier sibling (minus some features).
The RAM is limited to 3 GB, which is not that great for heavy gaming.
The good thing is you get to choose between different storage sizes from 64 GB to 256 GB. I recommend going for the higher version, given there is no slot for extending storage.
Display and audio
An LCD display of 7.9 inches houses 16M colors (1536 X 2048 pixels) but a screen to body ratio of just 70.6% means big bezels all around.
Still, if you are looking for portability more than anything, the 324 PPI Advanced Retina display will not let you down and can deliver a decent gaming experience.
The stereo speakers are capable of handling routine tasks and light gaming but are not the best for extreme gaming.
Battery life and weight
At less than 310 grams, the weight works in favor of the device, and it's super comfortable to carry around.
Despite Apple claiming 10 hours of single charge usage, the battery lasts less than 5 hours with heavy gaming. That's understandable, though, as the battery is pretty small given the tablet's overall small size.
Ports and Connectivity
Other than the standard Wi-Fi, Bluetooth, and GPS (for cellular variant), there is not much to say here:
USB 2.0 charging port is all you get, in addition to a headphone jack.
This model is also compatible with Apple's Magic Keyboard and Apple Pencil support.
WE LIKE
Good graphics & processor
Lightweight
Comes with a headphone jack
Different internal storage options
Compatible with Apple Keyboard and Apple Pencil
WE DON'T LIKE
Big bezels around the screen
Speakers are not the best
Under 5 hours of battery with heavy gaming
No extendable storage options
Amazon is known for its amazing innovations, and the Fire HD 10 tablet is exactly that. It strikes that elusive balance between features, performance, and affordability that many other offerings have struggled to achieve.
Let's see what all has it managed to pack and the few things that it misses out on.
Highlights
Crisp and clear picture quality
10.1″ display
Built-in Alexa integration
Decent speakers
Good price
Specs
The Fire HD 10 tablet runs on Amazon's proprietary Android-based Fire OS 5.5. It is powered by MediaTek MT8173B processor clocked at 1.8 Hz. It is a significant improvement over Amazon's previous tabs, achieving more than double the performance score of Tab 8!
It comes in 32 GB and 64 GB onboard storage variants, and there is a 2 GB RAM to run the show. There is a micro SD slot that lets you expand your memory by up to 256 GB (512 GB on later versions), which is ideal for frequent travelers.
Though we would have liked more RAM, you would glide through most of the regular stuff without noticing any performance lag. However, this is not your tablet for multitasking and gaming – there just is none in this price range.
Display and audio
There is a crisp 10.1″, 1080 p LCD display that packs in 2 million pixels, translating to 224 pixels per inch (PPI). Though the screen has a decent size, the bezel is also pretty thick, which reduces the screen size a little bit.
However, you are still able to enjoy the crisp display while watching full HD movies, reading magazines and newspapers, and playing games.
A 2 MP rear camera and the front-facing VGA camera are welcome additions as well.
The integrated Dolby Atmos capable speakers do a great job and pleasantly surprised us. We recommend connecting high-quality headphones for a more immersive experience, though.
Ports and connectivity
There is a micro-USB 2.0 charging and PC/Mac connectivity. Thankfully there is the old-fashioned 3.5 mm audio jack port as well.
The best part about the Fire HD tablet is the built-in Alexa integration, which takes it to another level. You can use it to:
Control your smart lights
Adjust thermostat settings
Make hands-free calls
Set reminders, etc.
All that without even moving your finger, right from the comfort of your couch!
Design, Battery life, and weight
Like any other Amazon product, this tablet has solid hardware, though the body is expectedly made of hard plastic.
Overall dimensions of 10.3″ x 6.3″ x 0.4″ and approximately 490 grams of weight lend it the much-needed portability.
The battery does its job, and you can easily get through 6+ hours of full HD content. There are Low Power and Automatic Smart Suspend modes that help extend battery life if you need to.
Overall, it is a near-perfect tablet under $200 that would address most of your regular tasks and a perfect entertainment solution when you're traveling.
WE LIKE
Crisp and clear visuals
Comes with a micro SD slot
Built-in Alexa integration
Has an audio jack
Lightweight
Good price
WE DON'T LIKE
Thick bezels around the screen
Only 2 GB of RAM
No USB-C ports
We all want to balance the way we expose our kids to screens, and the Amazon Fire HD 10 Kids Edition does a fine job of it. One look at it, and you'd know it is built for kids.
Let's have a closer look at its details and see why it's the best gaming tablet for kids.
Highlights
Extensive parental controls
10.1″ display
USB-C charging
Comes with protective casing
Up to 12 hours of battery time
Specs
The tablet runs on Fire OS that has been transformed (not tweaked!) to work with the Amazon universe. It means it's super easy to get anything Amazon and is not so easy to figure out outside stuff.
The upgraded processor runs 30% faster than its predecessor, and the difference is visible as you glide through apps.
RAM stays at 2 GB, which is sufficient for kid-centric apps. You get 32 GB or 64 GB of onboard storage and can expand it to 512 GB, thanks to the memory card slot.
Display and audio
The tablet sports a 10.1″, 1080p IPS display which is as crisp as they get. It gets a polarizing filter and is fully laminated, which is reassuring for parents for the odd occasions the kids overuse it.
The pixel density is somewhat on the lower side (194 PPI) though it is barely noticeable. It is surrounded by bezels and a rubbery case for drop-protection, which makes sense considering it is a kids' tablet.
There is a 2 MP camera on the front and back. The tablet plays full HD content with ease, and you get a host of complimentary subscriptions to Amazon's vast universe. Your kids will love to watch content, read books, and listen to songs!
Ports and connectivity
This department is an upgrade from the regular 10-inch Fire HD tablet, as it gets a USB-C port in addition to a 3.5 mm audio jack.
The pack includes a Type-A to Type-C adapter that is useful while charging with older power banks as well as connecting with PCs and Macintosh.
USB-C is a thoughtful addition and worth the extra money, as you no longer need to worry about micro USB sockets breaking in case of mindless plugging in by kids, which they would repeatedly do.
Design, Battery life, and weight
The first thing you notice about the design is its vibrant color options of the rubber casing:
The rubbery case is a useful feature as it makes the tablet drop-proof. It absorbs shocks nicely and makes the device bounce in case of accidental falls.
Of course, the tablet together with the case is pretty heavy at around 780 grams, but it is a fair trade-off for safety.
The battery should last you up to 12 hours, and it charges in 4 hours if you use the 9W charger shipped in the box. If you have a 15W adapter, the charging time will come down to 3 hours.
Overall, it is a sturdy, thoughtful tablet designed ground-up for kids and is worth its cost.
WE LIKE
Parental controls
Extendable memory
Polarizing filter on the screen
Has an audio jack
Comes with a rubber case for protection
Different color options for kids
WE DON'T LIKE
The case makes it pretty heavy compared to other tablets
Other Top Rated Gaming Tablets Worth Considering
Galaxy Tab S5e is Samsung's response to the long-pending customer demands of a mid-range all-rounder. Whether you are hooked to gaming, movies, or productivity, this ticks most of the checkboxes.
Read on and find out why we recommend it despite the higher price.
Highlights
Outstanding graphics
10.5″ display
Great speakers
Fingerprint scanner
Specs
Samsung Galaxy Tab S5e runs on Android 9 Pie, which is the latest Android you have on a mid-range tablet.
It comes with a Qualcomm Snapdragon 670 octa-core processor that makes for a fluid interface and multitasking a breeze.
You have two memory variants to choose from: 64 GB and 128 GB.
Additionally, you can bump it up further by adding a memory card with up to 512 GB capacity. You'll never run out of space, even after storing hundreds of hours of full HD content!
Display and audio
The Galaxy Tab S5e has a 10.5″ display built with Samsung's very own super AMOLED technology, complementing the 2560 x 1600 display. The designers have done a good job of keeping the bezels to a bare minimum too.
You get outstanding graphics that is best experienced rather than explained.
The S5e is a Dolby Atmos-enabled device, and the inbuilt speakers are well-tuned to deliver immersive, room-filling sound. However, we do recommend Bluetooth headphones (there is no slot for 3.5 mm audio jack) for the best experience.
Ports and connectivity
It comes with an optional LTE variant, which is handy for frequent travelers. There is support for dual-band Wi-Fi, and you can connect an external keyboard, thanks to the USB-C charging socket.
Sadly, there is neither a headphone jack support nor S-pen compatibility – two features that would have made it the perfect tablet in this budget.
Design, Battery life, and weight
The S5e is a perfectly designed tablet, thanks to its super slim form factor, premium aluminum case, and very narrow bezels.
The fingerprint scanner is nicely integrated with a power button on the side. While it may not be as fast as a premium phone's in-display scanner, it does the job quite well.
It is powered by a 7040 mAh battery. Though it does not last the full 15 hours as claimed by Samsung, it does last 12 hours of continuous streaming. The 18 W fast charger supplied with it juices it up fast – a significant advantage over Fire tablets.
WE LIKE
Excellent graphics
Minimum bezels
Extendable storage options
USB-C charging
Fingerprint scanner
The battery lasts about 12 hours
WE DON'T LIKE
No slot for the audio jack
No S-Pen compatibility
The Surface Go is a Windows 10 based, 2 in 1 offering, out to address the need for a high performing tablet slash PC. It is a toned-down version of Surface Pro that looks to keep the premium tag.
Keep in mind that it is a productivity-oriented device that does just about an OK job when it comes to media consumption.
Highlights
Great quality front and back cameras
10″ display
Minimal bezels
S-Pen compatible
Short battery life
Specs
Surface Go manages to deliver a full-fledged Windows 10 Home experience, which is noticeably hindered by the Pentium Gold 4415Y processor. Intel HD Graphics 615 is there to make up for it and handles almost anything you throw at it.
The 8 MP and 5 MP cameras are well optimized and zip through those long video calls.
There are two RAM variants to choose from: 4 GB and 8 GB. Internal memory options of 64 GB eMMC and 128 GB SSD are standard offerings, though you would expect more from a device at this price tag.
Display and audio
The 10″ PixelSense display is where the magic starts to happen:
The 1800 x 1200 (217 PPI) display punches above its weight and offers a wide viewing angle. You will notice the bezels, even though they transition into the screen nicely.
The onboard speakers support Dolby Audio and are nicely placed and are experienced best in the S-Mode.
We strongly recommend a cover to keep it safe.
Ports and connectivity
You get a USB-C port, a headphone jack, a microSDXC card reader, and a Surface Connect Port.
Keyboard and S-Pen are other expensive add-ons that work brilliantly.
Design, Battery life, and weight
Surface Go achieves perfection in design. It is a lightweight device that looks and feels premium – ideal for professionals who are always on the move.
The battery life isn't the greatest at 4.5 hours, although you can juice it up quickly with the USB C charger.
Overall, the Surface Go is a very good step in the right direction by Microsoft. Still, it will need a few iterations before being the perfect 2-in-1 you would carry around for your productivity and entertainment needs.
WE LIKE
8 MP and 5 MP cameras
Has a headphone jack
Comes with the microSD card slot
Lightweight
USB-C charger
Decent speakers
S-Pen compatible
WE DON'T LIKE
The processor is quite slow
Short battery life at only 4.5 hours
Things to Consider When Buying a Gaming Tablet
For starters, it is good that you have already decided on the primary purpose of the tablet – playing games!
However, this makes your decision-making process all the more important, as you just cannot afford to ignore features that might make you regret later.
Price apart, here are the major factors you should consider:
The operating system
The three major operating systems (iOS, Android, and Windows) have been around for over a decade now. You have likely experienced all of them already!
The Operating System is more of a personal choice, and there is nothing inherently better (or worse) with any of them. Here's a brief primer on the three available choices:
iOS: The most restrictive (therefore, secure) in terms of configurations available and the number of apps (games) you can play. Often gets new apps before others, as it has been around for longer.
Android: The most flexible of the lot. Many manufacturers customize the stock Android to enhance the experience. However, it delays the upgrades, and purists prefer stock Android tablets. It has a huge app store and is the most widely used O.S. There are plenty of choices available in terms of hardware, memory, processors, price, etc.
Windows: Hasn't really taken off and is the least popular. It has a restricted app store, but Microsoft has made efforts to offer a consistent experience on P.C. and tablets by pushing Windows 10. There aren't many configurations available to choose from at the moment.
Type of processor (CPU)
A Central Processing Unit (CPU) is like a gadget's brain:
It issues instructions to all the hardware components that make programs, apps, and games run.
Though a CPU practically handles one task at a time, it does it so quickly that you get an impression of multi-tasking.
Of late, manufacturers have started putting in multiple smaller CPUs (dual cores, quad cores, and octa-cores being popular ones) so that you get that important reminder while your game is on.
The dominant names in the world of tablets are ARM and x86 architectures, and many companies license these and sell products with their branding.
ARM Cortex A9 is one of the most common (available up to octa-core configurations), and this is the minimum you're looking at for gaming. If you plan on playing heavy, graphic-intensive games, Cortex A53 and Cortex A57 are what you want.
AMD and Intel also make tablet processors based on a different (x86) architecture. These AMD series CPUs can handle your gaming needs perfectly:
AMD Fusion A
Intel Core i3 ULV
Intel Core i5 ULV
Whichever one you choose, make sure the clock speed is 1GHz at the minimum.
Graphics card (GPU)
A Graphics Processing Unit (GPU) is central to the gaming experience. It makes your games run smoothly by providing high-resolution graphics and a lag-free video rendering.
Some of the leading products from top manufacturers that are a must for experiencing top-notch gaming graphics are:
Nvidia GeForce Kepler
PowerVR G6430 (affordable)
Adreno 330
RAM
Random Access Memory (RAM) is the memory your tablet uses to run programs, applications, and games when it is switched on. RAM becomes void once you shut down your tablet.
More RAM means more space available for your games. It also means more power consumption.
Here's how to choose RAM:
If you want to play entry to mid-level games, 4 G.B. is the absolute minimum you need.
If you want the best gaming experience, 8 G.B. and above is what you want, though the tablet prices are extremely sensitive to available RAM.
Storage
This is the Read-Only Memory (ROM), where your tablet stores and keeps information permanently (until you delete it yourself), even when you power off the device.
This is in-built memory where your games and applications reside so that you do not have to download and set them up every time you power on your tablet.
There are entry-level tablets with 16 G.B. being the bare minimum for tablets, though 64 G.B. is ideal for gaming. Keep in mind that a part of that (approx. 5 – 8 G.B.) will not be available to you, as it is occupied by the Operating System itself.
Some tablets allow extendable memory, which is a useful feature to have if you want to future-proof your device.
Though tablets are now offering up to 1 T.B. of extendable memory, 256 GB is more than enough, as you would likely upgrade your device by the time you need more than that.
Display size
The display is critical to gaming tablets, and you should not compromise here. This is where you get to experience the work of CPU cores, GPU, and other components of your tablet.
If you do not travel a lot, and portability is not an issue, the 10.1" display will significantly enhance your experience compared to smaller ones.
Battery life
This is one of the less technical points to consider:
The longer the battery life, the longer your tablet works without needing a charge. 5000 mAh is the bare minimum for gaming tablets, though we recommend going for 7000 mAh ones if you can.
In theory, more is better for battery life, though it also depends upon other factors such as the games you play, CPU, GPU, and display size. If you play graphic-intensive games, your battery would typically last for 4-6 hours.
Weight
Most people use gaming tablets for longer durations, which will strain their wrists and joints. To avoid this issue, make sure you use a tablet case with a built-in stand whenever possible.
I also recommend going for a light tablet as it is easier to use for long periods at a time and more comfortable to carry around as well.
When it comes to large tablets (9+ inches display), 1 pound (~ 450 grams) is pretty much the standard weight. Huawei MateBook breaches this and goes up to 1.4 pounds (640 gram), though it's because of its larger (12") display.
Ports for accessories like keyboard, mouse, etc.
When you are buying a gaming tablet, you would invariably want to plug other accessories into it, i.e., a headphone jack, USB-based keyboard, mouse, etc.. These give you more flexibility and make the gaming experience comfortable.
Here is a list of the commonly available ports and the purpose they serve:
USB – A universal connectivity standard and indispensable, as it allows you to exchange data, plug-in external keyboard, and mouse to avoid fatigue.
Headphone jack – The good old 3.5 mm jack is not going anywhere, though many premium tablets have done away with it. It comes handy while gaming in public places.
SIM/Memory Card – Strongly recommended enhancing capabilities of your tablet.
Charging – Though it will be there by default, a tablet with USB type C port will ensure fast charging.
With this information, we are sure you would choose a tablet that suits your needs the best.
Happy gaming!
Frequently Asked Question
What to Look for in a Gaming Tablet?
There are many things to consider when buying a gaming tablet, but some of the most important are: available RAM and internal storage, display size, battery life, tablet weight, available ports, and CPU/GPU.
How Much RAM Do I Need for Gaming in Tablet?
For entry-level games, you'll need at least 2 GB of RAM, although we suggest you go higher if you can. For the best gaming experience, you need at least 8 GB of RAM. Keep note that tablet prices are very sensitive to available RAM – the more RAM a tablet has, the higher the price.
What Is the Best Tablet for Gaming?
The best tablet for gaming in 2023 is the Apple iPad Pro (11 or 12.9-inch variants). Samsung's Galaxy Tab S6 and Microsoft's Surface Pro 7 are other top choices.
Last update on 2023-12-01 / Affiliate links / Images from Amazon Product Advertising API