If you're anything like me then ironing is definitely not on top of your priority list.
Unfortunately, you can't exactly walk around in wrinkled clothes either. At least not all the time.
So, what's the solution?
Well, using a garment steamer to straighten your clothes!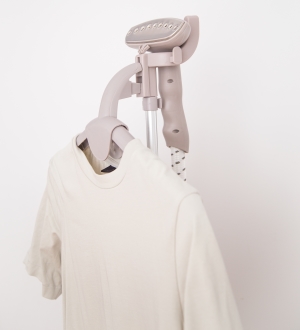 A garment steamer is an electrical device that uses hot steam to remove wrinkles and creases. It is super easy to use and doesn't require much skill. It's also a lot faster than ironing, so you'll save some precious time!
Best Garment Steamers for 2023
Best Stand Up
Best Handheld
Best for Traveling
Best Stand Up
Best Handheld
Best for Traveling
Aren't you just sick and tired of spending too much time ironing clothes every week? Or are you perhaps spending days straightening drapes, curtains, and other large textiles during spring cleaning?

If this is you, then you need a floor standing garment steamer!

It gets out all the creases and wrinkles twice faster than an electric iron and leaves you more time to do things you really want!

Here are our top picks:
Jiffy J-2000 – Best Garment Steamer 2023
Jiffy's J-2000 garment steamer is still one of the top-selling floor steamers online today, and it's not hard to see why – it's sturdy, durable, powerful, very efficient in removing wrinkles and creases, and has proven itself as a top-quality product over the years.
Let's see what you can expect from this steamer.
Highlights
Floor standing model
Steam time: 90 minutes
Only takes a few minutes to straighten clothes and other textiles
Highest rated clothes steamer online
Reliable and trustworthy brand
The Jiffy-2000 is built to last for years and it is truly a high-quality steamer that works extremely well.

Steamerland.com
Overview of the Jiffy J-2000
I must admit that the biggest flaw of the Jiffy J-2000 steamer is its outdated and old-fashioned look. After all, it has been on the market for years now.
Don't let the simplistic look deceive you though:
It's still a very powerful machine that outperforms all other modern-looking units. I swear, after you've tried it once, you'll never want to iron again!
Although this Jiffy's stand up steamer is mainly designed for home use, it can also handle light industrial use. Lots of people actually say they have purchased the J-2000 for straightening clothes in retail stores and that it's just as powerful as commercial steamers are.
Performance
One of the reasons why the J-2000 is our top pick for the 2023 season is its industry-leading steam flow time:
It can run a total of 90 minutes on one fill. That's more than two times longer than any of its competitors!
The long flow time is very useful when you have a lot of your family's clothes to steam or when using it as a curtain/drape steamer.
Other reasons why the Jiffy J-2000 is the best in its category are:
It only takes one minute to warm up.
It gets wrinkles and creases out of even delicate fabrics in just a couple of minutes.
Yep, you read that right. This garment steamer can de-wrinkle one piece of clothing in less than two minutes. How's that for saving time?
Now, there are some complaints about the Jiffy saying it's not that effective on very wrinkled items.

Well, the truth is, it is actually very effective in removing wrinkles from all types of materials, but you need to hold the piece of clothing taut as you work on it and make sure you hold the steamer head against the fabric.

If you're working on an item that is very wrinkly, steam it from the underside while pulling the steamer head towards you. It sounds complicated, but it's actually very easy. You'll get the hang of it in no time!
Features and Accessories
As I said before, the J-2000 is a very simple clothes steamer:
It only comes with a 5'4" pole (which is almost a foot longer than that of other floor steamers), a 5.5-foot hose, a removable water tank, and a 6-inch steaming head.
We love pretty much everything about it:
The water tank is transparent so you can see when you're about to run out of water.
The body is durable and stable.
The pole is sturdy and long, keeping your garments from touching the floor.
The steaming head is wide and large and provides a lot of streaming power.
Jiffy's J-2000 clothes steamer doesn't come with any additional accessories, which is considered a flaw by some people. We don't think it is:
Extra parts and clips make setting it up longer and also more complicated to use. In our opinion, the simpler, the better!
If you do want to get some accessories, check out Jiffy's store on Amazon. There, you can find items like different steaming heads for drapes or carpets, crease tools, etc.
The steamer either comes with a plastic or metal steaming head. Consider picking a model with the metal head if you need to make creases (i.e., press dress pants) or if you plan to steam lots of collared shirts.
Ease of Use
Using the Jiffy steamer is super simple:
All you have to do is pop an item of clothing on a hanger and then attach it to the pole. Easy as!
Again, we think that the lack of extras is a blessing here. Instead of moving the item you just steamed from the built-in hanger to another one, you can just pick it up, put it in your closet and replace with another hanger on your steamer's pole.
Filling up the water tank and moving it around your home is not a problem either:
The Jiffy comes with built-in handles, which make it comfortable to hold under running water. The built-in wheels make it easy to move from room to room.
SUMMARY: The Jiffy J-2000 is without a doubt the best garment steamer for 2023. It produces a powerful flow of steam, runs for 90 minutes on one fill, is very easy to set up, and is very fast and efficient in removing wrinkles from all kinds of fabrics.

If you want the best that money can buy, then this is what you need!

WE LIKE
Only takes one minute to heat up
90 minutes of steam time on one fill
Works great on all types of fabrics
Strong steam flow
Easy to fill and maneuver
Automatic off-switch
WE DON'T LIKE
Pricy
Old-fashioned design
Doesn't come with any accessories
Rowenta's Master Valet IS6300 is our second pick in the stand-up garment steamers category.
It's got a nice modern design and comes with lots of extra accessories, but doesn't quite match up to the J-2000 in terms of performance.
That said, if you're looking for a model that's newer, a bit cheaper, and more versatile, this Master Valet clothes steamer is a great choice.
Let's see what it offers.
Highlights
Stand-up design
Steam time: 40-60 minutes
Works well on all types of fabrics
Comes with accessories
Trusted brand
Overview of the Rowenta Master Vallet
Compared to the J-2000, the Master Valet looks really nice and modern. It's a bit less powerful than the Jiffy steamer but almost equal in performance when it comes to straightening clothing and textiles. An electric iron could never live up to either of them!
The Master Valet works best when used in your home as it's got a shorter steam time than the Jiffy. Don't worry though; it's certainly long enough to steam lots of clothes in one go.
Performance
It only takes two minutes for the IS6300 to warm up and steam time is up to 60 minutes on one fill.
There's some confusion over how long the steam time actually is. Officially, it's supposed to run up to 60 minutes on one fill, but some people claim the tank only lasts for 40 minutes.
If you only use it to steam clothes at home, 40 minutes is enough to get multiple items straightened in one go, though.
Like the Jiffy, the IS6300 Master Valet too works very well on different types of fabrics and takes just a few minutes to remove creases from suits, dresses, shirts, and pants. With performance like that, why would anyone spend ages on ironing?
Now, when it comes to straightening drapes and curtains, the J-2000 is definitely superior:
The steam hose of Rowenta is only 4,5 feet long- a foot shorter than the hose of Jiffy – and it may not reach the top of your drapes or curtains. If you want to use the Rowenta to get up there, you'd have to balance it on a chair. I wouldn't recommend that though because you could fall on the burning hot metal.
Speaking of hot metal:
Many users say the handle of the Master Valet gets quite warm after it's been running for a while. It's not that big of a deal, but if you have small kids at home, this is something to consider.
Features and Accessories
Compared to the simplistic look of the Jiffy J-2000, the Master Valet looks super fancy and luxurious!
Its features include a built-in clothes hanger, a pole hook for your own hangers, and clips for things like skirts or pants.
One of the things we love most about the IS6300 is the 'Roll & Press Support' feature that keeps clothes in place and acts as a stand-up ironing board. It's very handy when it comes to pressing dress trousers or suit skirts. I want to point out though that it does take some time to get used to vertical ironing.
Rowenta's IS6300 Master Valet comes with three accessories:
A lint brush for removing hairs, dust, and lint.
A fabric brush that's supposed to let the steam penetrate the fabric more easily and make steaming thicker clothes more efficient.
A steam bonnet that protects delicate fabrics and keeps water drops away.
Other features:
The steaming hose is made of fabric
The on/off switch is foot-operated
The pole is telescopic for easy storage
Some users say the pole is too short for their clothes and longer items extend all the way to the water tank. The pull-down ironing board is also too short as long skirts and pants reach over it.
Ease of Use
Here's the good:
It's super easy to move the Master Valet around your home as it comes with a unique 'tilt and roll' technology – just tip it like you would a suitcase and roll it on its wheels.
The removable water tank is very easy to remove and fill.
Here's the bad stuff:
Because the Rowenta garment steamer comes with different built-in accessories, it's more complicated and annoying to operate than the J-2000:
First, you need to place your garment on the built-in hanger. After you're done steaming it, you need to remove it from that hanger and transfer it to another one before hanging it in your closet. And then you have to repeat this cycle again and again.
But if you're a patient person and don't mind the additional steps, this won't be an issue for you.
SUMMARY: Although Rowenta's Master Valet can't beat the easy-to-use J-2000, it's still a great option for those who appreciate versatility and good design. The additional features and unique attachments make it a good buy at a competitive price.

Invest in this beast, and you'll never have to iron again!

WE LIKE
Different accessories
Works well on all types of fabrics
Cheaper than our top choice Jiffy
Heats up in two minutes
Straightens garments in only a few minutes
Easy storage
WE DON'T LIKE
More complicated to operate than the Jiffy
Shorter steam time than the J-2000
Hanging pole is too short for longer clothes
Top-Rated Handheld Steamers
Are you new to the world of fabric steamers? Do you live in a small flat and don't have much space for storage? Do you just want to straighten a few items at a time?

Then a handheld steamer is right for you!

Here are our favorites.
Jiffy Esteam – Best Handheld Clothes Steamer for 2023
Nothing can beat the Jiffy Esteam when it comes to compact garment steamers – it's got a nice and modest design, it produces a powerful flow of steam, and gets wrinkles out of your clothing super-fast.
Read our Jiffy Esteam review to learn more about this product.
Highlights
Handheld clothes steamer
Steam time: 19 minutes
Powerful flow of steam
Compact size
Trusted brand
The ESTEAM is the finest hand-held steamer on the market.

SewingMachinesPlus.com
Overview of the Jiffy Esteam
You can't go wrong with a Jiffy! Seriously, the Esteam is pretty much a mini-version of the stand-up J-2000! It's almost as powerful as the large model but comes in a compact size.
It weighs just three pounds so you can technically use it both at home and when traveling. It's quite large though, measuring around 11 inches in height, so it might be best to use it as a home steamer only. Your choice!
Performance
Like the floor-standing J-2000, the compact Esteam produces the longest steam flow in its category:
On one fill, it lasts up to 19 minutes, which is 25% longer than other handheld garment steamers. You'll definitely save some time not having to fill it up after every item.
It takes about two and a half minutes to warm up, and the streamflow is nice and strong.
The Esteam is very efficient on all types of materials, but make sure to hold your clothes taut and keep the steaming head touching the fabric.
Be careful:
If you use the garment steamer for more than a couple of rounds, the handle might get hot.
There have been some complaints about the Esteam leaking and dripping. If you find yourself facing this issue, there are three options: you either received a faulty unit, you filled it up too high, or you didn't screw the top back on properly.

Try filling it only halfway and see if it still leaks. If it does, contact Jiffy's customer support as soon as possible.
Features and Accessories
The Esteam, like most other handheld clothes steamers, doesn't come with any accessories, but it's not like you need them anyway. Jiffy's Amazon store does have travel adapters, different lint brushes, and a hand mitt available should you need them.
Now, where the Esteam stands out among others in the handheld garment steamers category is its sturdy design:
Jiffy has many devoted fans who say this steamer has lasted them for years. Durability is one of the key points to consider before investing in anything!
Proper maintenance is essential to get the maximum out of your product:
Only use tap water, as recommended
Empty the steamer after each use
Let it dry completely before closing it up
Jiffy's Esteam does have one design flaw:
It doesn't come with an on/off switch. As soon as you plug it, the unit will turn itself on. While it does make the steamer easy to use, it can get annoying unplugging it every time you get interrupted while steaming your clothes.
You don't have to worry about safety though:
The unit will shut off automatically if it gets too hot or runs out of water.
Ease of Use
Like the J-2000 reviewed above, the Esteam is super easy to use and move around. The steaming head is squared in shape, and the unique form makes steaming pocket corners and collars very easy.
Don't tilt the steamer to avoid leaking and water dropping on your clothes – the Esteam works best in an upright position.
Emptying or filling up the water tank is super easy too:
Just screw the top off and fill it about ¾ way.
SUMMARY: Jiffy's Esteam is a sturdy and high-quality device and definitely worth its title of the Best Handheld Garment Steamer for 2023. It's durable, powerful, and comes in a compact size for easy storage. Although more expensive than other products in the same category, it's 100% worth the investment!
WE LIKE
The steam stream is powerful
19 minutes of steam time (longer than other similar units!)
Easy to empty and fill
Super easy to use
Easy storage
Durable build
Trustworthy brand
WE DON'T LIKE
Doesn't have an on/off switch
Can leak and drip if tilted too much
The handle can get hot when used for too long
The BEAUTURAL Handheld Steamer is our second pick in the handheld clothes steamers category.
It's actually more powerful in terms of its technical specifications but doesn't last as long as our main pick Esteam. It's also bigger, making it suitable for use in your home only.
It does perform very well though, so let's take a closer look!
Highlights
Handheld steamer
Steam time: 15 minutes
Works well on all types of fabrics
Uniquely shaped steaming head
Good online ratings
Overview of the Beautural clothes steamer
BEAUTURAL Handheld Steamer is a top-quality device that performs just as well as our main pick Esteam. It's currently Amazon's #1 bestseller and has one of the highest ratings in the handheld steamers category.
Now, talking about its use – it's rather large and bulky at 10.7 inches, so I don't think it's suitable for traveling. It is perfect for use at home or in the office, though.
Performance
The BEAUTURAL steamer takes only around 30 seconds to warm up but lasts 15 minutes on one fill. The steam time is a bit shorter than that of the Esteam and is the reason it's not our main pick.
Honestly, the tiny water tank is its biggest flaw as it gets very annoying to keep refilling after every two or three items.
It's a shame because it works beautifully performance-wise. The flow of the stream is strong and powerful and gets rid of wrinkles out of all types of materials very fast.
There is one common complaint about the BEAUTURAL:

It's hard to empty the water tank after each use because it is oddly shaped.

While it may not sound like a big deal, not emptying the water chamber can lead to the development of mold, which, in turn, can affect the longevity of the steamer. To avoid this issue, make sure to pull out the rubber plug and place the tank upside down.
Features and Accessories
Unlike the Esteam and other handheld steamers, the BEAUTURAL comes with a couple of accessories that provide versatile steaming options:
a fabric brush,
a creaser,
a lint brush.
Its 90-day full refund policy and a 24-month warranty also make it stand out among other similar products.
Ease of Use
If you've been following my review so far, you already know that the BEAUTURAL is very convenient to use:
The rubber cap comes off easily and the water chamber is comfortable to fill. The roundly-shaped head glides over all materials easily too!
SUMMARY: The BEAUTURAL is our second pick in the handheld garment steamers category and a great choice for anyone on a budget. It performs beautifully on all types of fabrics, produces a strong flow of steam, and works long enough to straighten a few garments in one go.

If you're looking for a product for quick touch-ups now and then, this is the steamer for you!

WE LIKE
Very efficient on all types of fabrics
Steam time is 15 minutes
Warms up in 30 seconds
Has an on/off switch
Compact size for easy storage
Great price
WE DON'T LIKE
Hard-to-empty water tank
The on-button can get stuck easily
Top-Rated Travel Garment Steamers
Are you a busy business traveler with lots of important events and meetings to attend? Do you want to look your best even during vacations and holiday trips?

Then you need a travel steamer!

Here are the best buys for this year.
Lemontec's portable clothes steamer is the best accessory for frequent travelers – it's compact, lightweight, and surprisingly powerful considering its small size.
Read our Lemontec garment steamer review to learn more about this little beast.
Highlights
Travel steamer
Steam time: 9 minutes
Compact and lightweight
Leakproof
5-year warranty
Overview of the Lemontec portable steamer
When you start narrowing down your selection of portable steamers, there are two important things to consider: whether it's leakproof and its size and weight.
Lemontec's travel steamer fits both criteria:
It comes with a secure screw-in plug, so it's 100% leakproof
It's compact at only 6 inches in height
You won't be able to use it for steaming lots of clothes at home though – its small size means the water tank is also small and doesn't hold a lot of water. You don't want to bother with that if you have lots of things to straighten!
Performance
Of course, a mini steamer like Lemontec can't perform just as well as the floor-standing and handheld garment steamers reviewed above.
That said, it does a decent job at straightening a couple of items of clothing at a time. To get the most out of your unit, keep the steaming head directly to the fabric and hold it at the right angle.
The steaming nozzle is shaped like a triangle and has 8 wide-set holes arranged in two rows. The unique nozzle is one of the things that contribute to its efficiency:
It delivers two bouts of steam to the fabric with each pass instead of one!
At 800 watts, it warms up in under 70 seconds and produces quite a powerful flow of steam considering its size. And even though it's so compact, the tank holds about 6 ounces of water, which is more than many other products in this category.
The relatively large water tank also means it runs longer on one fill than most other portable garment steamers: you get about 9 minutes of steaming time, which is enough to de-wrinkle a couple of items in one go.
Now, the main issue users have with the Lemontec steamer is that it sometimes seems to spit hot water. The problem is similar to that of Jiffy Esteam – if you fill it up too high, it starts dripping. Keep the water level about one centimeter under the maximum water line to avoid this issue.
Features and Accessories
Lemontec's travel steamer doesn't come with any accessories, but it does have a couple of useful features:
Long power cord
Illuminated on/off switch
Auto switch-off function when the unit gets too hot or water starts running out
Ease of Use
Using the Lemontec mini steamer as well as filling it up and emptying it is very easy. There is a bit of a learning curve to get the angle right, but it should only take a couple of tries!
SUMMARY: The Lemontec is the best portable garment steamer for 2023 and thus the best travel accessory. It heats up fast, is efficient on most fabrics, and is the perfect choice for people who want to look neat wherever they go.
WE LIKE
Compact and lightweight
Leakproof
Powerful steam flow
9 minutes of steam time
Warms up in just over 1 minute
Efficient on most fabrics
Beautiful design
WE DON'T LIKE
Only suitable for use while traveling
May start dripping if used at a wrong angle
Urpower is a great portable travel steamer and the second-best in this category. It's not quite as good as our top pick Lemontec, but it does a decent job at getting wrinkles out while on the go.
Let's see what this model offers.
Highlights
Portable travel steamer
Steam time: 10 minutes
Super compact and lightweight
Leakproof
Warms up in only a few minutes
Overview of the Urpower clothes steamer
The Urpower garment steamer is very similar to the Lemontec in terms of size:
It's a bit taller at 8 inches compared to Lemontec's 6 but weighs about the same at around 1,2 pounds. The top is a twist-off too and locks back securely, leaving it 100% leakproof.
It's best used during short business trips and holidays as it's just too small for everyday use at home.
Performance
The Uprower steamer warms up in under 120 seconds and produces continuous steam flow for up to 10 minutes when hot.
The company recently redesigned the steamer's nozzle and it's now rectangular instead of oval. The new shape allows the steam to reach areas like pocket corners and shirt collars that are otherwise hard to straighten.
It works best with light fabrics although you can use it on thicker materials too if you run it over the garment multiple times.
The tank holds 130 ml of water, so you can most likely only straighten one or two pieces of clothing at a time.
Features and Accessories
Urpower's travel steamer is a simple unit that only comes with a small travel bag for easy storing.
Its features include:
Auto shut-off
On/off switch
Long power cord
Ease of Use
Like most handheld garment steamers, the Urpower unit is very simple to use. When researching this guide, I was surprised to find so many people who had no idea how to steam clothes properly though!
Here are my tips:
The item you intend to steam needs to be on a hanger. You'll have no results if you use the steamer on clothes that are lying flat. Tipping it over like that only makes condensation form that then drips on your clothes and makes them wet!
If you do need to tilt it, keep it at a 45-degree angle maximum.
Hold your item taut with one hand and keep the steaming head against the fabric for best results.
See, it's not that complicated! After a few tries, you'll be an expert in steaming clothes!
SUMMARY: The Urpower is a good compact steamer if you're after something cheap, fast, and decent for occasional steaming only. It's definitely not the most powerful device on the market, but it's good enough to straighten your clothing while out and about.
WE LIKE
Compact and light
10 minutes of steam flow on one fill
Leakproof
Heats up fast
Good price
WE DON'T LIKE
Not a very powerful steam flow
Only suitable for travel use
Can drip if used at a wrong angle
THINGS TO CONSIDER BEFORE BUYING A Garment Steamer
Before reviewing the top-rated products, I want to give a quick overview of how to choose a garment steamer. You see, there are three different types of steamers available: floor standing models, handheld steamers, and travel units.
Which one is right for you really depends on your needs:
If you have lots of clothes that need straightening every week and you also want to steam bigger things like mattresses, curtains, drapes, upholstery, etc., then you'll need a floor standing garment steamer. These can usually handle both thick and light fabrics and last between 60 and 90 minutes on one fill.
If you are looking for something to use only a few times a week, you'll be fine with a large handheld steamer that has enough power to steam a T-shirt and a pair of pants/a skirt in one go. Most handheld steamers work best with light fabrics like linen and silk only, although there are exceptions.
If you travel a lot, you should invest in a portable travel steamer that is compact, lightweight, leakproof, and can de-wrinkle at least a few items per fill. Travel size steamers are the most efficient with light fabrics.
There are also some safety features to consider:
Pick a model with an on/off switch (this is a no-brainer, really, but you'd be surprised to see how many models come without it!).
If there's no on/off switch, make sure the unit shuts off automatically when the water starts to run low or the unit overheats.
Check whether the handles stay cool during use. Some devices can heat up pretty fast! The best place to find information about this is through user reviews on different sites.
Specifications and additional features:
Unit size – most mini and handheld steamers are small and compact and thus easy to store. Floor-standing models are much bigger and may not be suitable for smaller homes if storage is an issue.
The length of the hose determines whether you can use it to steam hanging textiles like tapestry, drapes, and curtains. Many models have extendable hoses, or you can purchase them as an extra.
Accessories – some models come with extras such as telescopic poles, built-in hangers, creasing tools, pull-down ironing panels, lint removers, etc. These extras are not necessary for effective steaming but can make the process a lot easier.
Different heat settings are important for steaming delicate materials like silk, polyester, and nylon, as these are best steamed at lower temperatures. If you have lots of clothes from these materials, pick a unit that lets you regulate the temperature.
But now, let's get started with the garment steamer reviews.
Frequently Asked Questions
⭐ How to Use a Garment Steamer?
Before using a garment steamer, check the fabric care label of your clothing item to find out whether you can steam it or not. You will find that you can steam most polyesters, wools, silks, and cotton. However, materials that contain plastic are not suitable for steaming.
Our guide to using a garment steamer:
1. Make sure that there is cold water in the tank of your steamer. Plug it in and wait 2-3 minutes for it to heat up.
2. Hang the garment you need to steam.
3. Your approach to steaming the garment depends on how wrinkled it is. Steam very wrinkled garments from inside of the garment or underneath it.
4. Keeping a small distance between certain fabrics and the garment steamer may provide necessary to prevent the fabric from sustaining damage. For that same reason, don't steam one area for too long.
5. If you find that the garment feels damp after steaming there is no cause for alarm. Simply let it dry for 5-10 minutes before putting it on or hanging it in the closet.
⭐ How to Clean a Garment Steamer?
You can take some preventative measures to keep your steamer in good condition. For example, using only distilled water prevents steamer outlets from calcifying.
However, you'll have to clean it sooner or later. The best way to do it is by using white distilled vinegar.
1. Remove all remaining water from the water tank.
2. Pour the white distilled vinegar into the tank and heat the steamer.
3. Then, either shoot the steamer over a sink or tub until the tank is empty or allow it to run dry.
4. Next, fill the tank with distilled water and repeat the process.
⭐ What is the Best Garment Steamer?
There are three different types of garment steamers available: floor standing steamers plus handheld and travel steamers. As you can see, no one particular product is a good fit for everybody.
To help you pick the right one, we put together this guide, which includes our top two choices in each category.
But you can also check Amazon's bestsellers.
Wrapping It Up
Which garment steamer is right for you depends on your needs as different types of units come with different features and functions. I hope our reviews of top-rated floor standing, handheld, and travel steamers help make your choice easier.
The market of fabric steamers is unfortunately pretty crowded and filled with a lot of junk, so finding a product that's right for you can be complicated. We hope our Garment Steamer Buying Guide and reviews help you find a model that matches your needs.
If you have any questions or suggestions, please let us know in the comments below. We're looking forward to hearing from you!
Last update on 2023-09-28 / Affiliate links / Images from Amazon Product Advertising API