I'm sure you know that listening to music can help you relax, boost your mood, and positively affect your state of mind in numerous ways.
And if you're anything like me, you need music like you need air to breathe!
Now, I'm also sure you're almost painfully aware that the world around us is loud and full of noisy distractions. It seems that no matter how loud you play your music, you just can't silence the noise.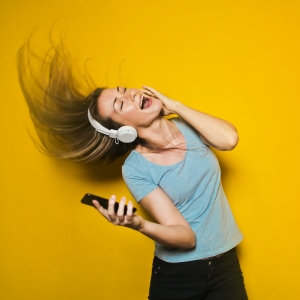 That's where noise-cancelling headphones come into play:
A good pair can make you feel alone in a crowded space and help you focus even in super noisy environments!
What are the Best Noise-Canceling Headphones for 2023?
There is no right answer to this question, but you already knew that. Which pair is right for you depends on whether you value sound quality over canceling out background noises or vice versa.
I put together this guide of top-rated headphones to help you pick the ones that suit your needs. I want you to enjoy your favorite music without distractions!
Preview
Editor's Choice
Best Sony NCH
Best Sound!
Best Price!
Fast charging 15 min for 3h of music
Fast charging 10 min for 5h of music
Fast charging 15 min for 5h of music
1. Bose NCH 700 – Best Noise-Canceling Headphones 2023
Ever since Sony released its first pair of 1000X headphones in 2017, Bose has been facing fierce competition in this space. Last year, Sony's XM3s finally pushed Bose's QuietComfort 35s off the throne, beating them in every area, including active noise cancellation as well as sound quality.
Now, Bose is in the game again with their new NC 700 headphones, and they're taking back the crown! With a new design, improved sound quality, and better-than-ever noise cancellation, the Bose 700s are the best noise-canceling headphones for 2023.
Highlights
Amazing noise cancellation
Improved sound
New build and design
Perfect for making phone calls
Buttonless controls
You can't go wrong with this fantastic pair of over-ear headphones.

TechRadar.com
NOISE CANCELLATION
Bose has always been a top player in the NC headphones field, but they really stepped up their game with customizable levels on the new 700s:
The QuietComfort 35 2nd generation cans only had three levels of noise cancellation to choose from (high, low, off). The new 700s come with a whopping ten levels, allowing you to choose just how much noise you want to let in. From around levels 8 and up, the headphones leave you basically in a silent void!
They still won't block all the noise (such as loud bangs from construction work), but they do clear away most of the noisy distractions of the world.
And what I love most about the Bose 700s is what happens when you turn NC off:
Instead of leaving you with muffled sounds from the outside world like other headphones do, Bose actually lets in surrounding sounds. This almost leaves the impression you're not wearing any headphones at all!
SOUND QUALITY
Sound quality is another area where Bose improved with the new 700 noise-canceling headphones:
Thanks to the new drivers, the cans sound a little bit richer across all types of music.
The QC35s were best for bass-heavy genres and couldn't really handle high-range frequencies very well. The new model, on the other hand, sounds crispy clear and lively whether you're listening to metal bands with lots of guitar riffs, more mellow genres like jazz and folk, or tracks with vocals. And it's still great for bass-heavy genres too!
The only downside with these headphones is that highs can sound a bit harsh at times, especially if you like your music loud. You also can't adjust EQ right now, although Bose is planning to add this option in the future.
It's debatable whether the sound quality can beat that of Sony's 1000XM3s or Sennheiser Momentum 3, but they are definitely the best Bose headphones available today!
VOICE CALLS
One area where most NC headphones are lacking is in their performance during phone calls. They usually amplify the noises around you and make it sound like you're on the speakerphone. Not so great for making calls in a crowded office!
Bose put a lot of work into this with the new NCH 700s, and the stellar performance is honestly one of their biggest strengths!
Instead of just improving their mic system, they built a completely new one from scratch, and it definitely paid off:
The new system drowns out most of the environmental noises around you while focusing on your voice. You can talk to people at a normal volume (or give commands to voice assistants) wherever you are, and they'll still hear you perfectly well. If you use the phone a lot, the quality of this feature alone makes it worth the investment!
COMFORT AND FIT
Just to be clear, the new 700s are not a successor to the QuietComfort 35 IIs. They are a completely new headphone, both on the inside and outside.
The new design is clean and modern with no visible screws or hinges (which is why they don't fold up anymore). One of the biggest external changes is the stainless-steel headband that runs stylishly all the way down to the earcups.
The headband is cushioned with foam and the earcups with synthetic leather, both of which feel extremely comfortable. The new pair is slightly heavier, but it didn't seem like a big issue to me.
If I had to choose, I'd say the QuietComfort 35 IIs still win in terms of overall comfort, but the new 700s are easily as comfortable as Sony's XM3s.
Some people say the headband applies a little bit too much pressure on the head. Others have problems with the pressure active noise cancellation can cause. I highly recommend trying out a pair in a brick and mortar store to find the most comfortable pair for you!
CONTROLS
The new design doesn't leave many buttons on the earcups:
There's one on the left ear for adjusting noise cancellation levels and two on the right one for power or Bluetooth and for activating one of the digital assistants.
You can control your music from the front half of the right earcup by tapping or swiping your fingers. For example, swiping up or down raises or lowers volume and tapping twice pauses or restarts the music.
While this system follows that of other modern headphones, it takes a bit of practice to remember where to reach. And although Bose has a smartphone app for controlling your music too, it's still pretty glitchy at the moment.
CHARGING AND BATTERY LIFE
Surprisingly, nothing has changed regarding battery life – you still only get around 20 hours of music playback compared to Sony's 30 hours.
It takes about 2,5 hours until full charge via the USB-C cable. If you can't wait that long, you can use the quick charge option (15 minutes) that gets you around three hours of listening time.
OTHER FEATURES
Like most other modern headphones, Bose's 700 NCH support all major voice assistants:
Google Assistant
Siri
Amazon Alexa
You can also link two devices at once (for example, your phone and laptop) – a feature that's still pretty rare these days.
FINAL VERDICT
Bose's new 700 model is an excellent pair of ANC headphones and currently the best on the market. It comes with high-tech features, offers amazing noise cancellation, and is perfect for making phone calls in noisy work environments. With improvements to both design and sound quality, you won't find a better option today!
WE LIKE
Beautiful design
Excellent noise cancellation
Improved sound quality
Improved mics for making phone calls
Support for Google Assistant, Siri, and Alexa
Modern buttonless controls
WE DON'T LIKE
Glitchy smartphone app
Expensive
Can't adjust EQ
High notes sound a bit harsh at high volumes
2. Sony WH-1000XM3 – Best New Sony Noise Canceling Headphones
Sony's 1000XM3s were previously on top of our best ANC headphones list. Bose knocked them down a spot with their new pair of NCH 700s, but the M3s are still the best Sony noise-canceling headphones you can buy in 2023.
With a stylish design, 30-hour battery life, and extraordinary noise cancellation they are the perfect alternative to Bose.
But why do I prefer Bose's new model over the Sony M3s?
Well, the M3s are already more than a year old and they might be close to a refresh soon. Plus, the new Bose set comes with a new and improved mic system for making phone calls. Since I use my NC headphones mostly at work, it was worth investing in the NCH 700s for me.
Highlights
Superior noise cancellation
Improved sound quality compared to previous generations
Super comfortable
Extra fast charging
Long battery life
The Sony WH-1000XM3 are exactly the headphones we've come to expect from the new leader in noise-cancelling headphones.

TechRadar.com
Noise Cancellation
Sony's WH-1000XM3 model is the only headset to offer serious competition to Bose (or any other company, for that matter) in this regard:
Noise cancellation with the M3s is unreal! Seriously! As soon as I put them on, all noise around me either fades completely or somehow blends in with my music. As corny as it sounds, I literally feel the rest of the world fall silent.
Sony's awesome NC abilities come from their QN1 processor, which seriously improves noise cancellation.
If you want to use the headphones for studying or working only, you can customize settings to keep noise cancellation on even without music playback. You can set a timer for how long you want to keep your set powered up in NC or turn this feature on permanently.
Sound Quality
The QN1 chip also improves audio processing and is responsible for the pair's awesome sound quality:
Vocals, mids, and highs sound crisp and clear, and most genres seem to come to life with the 1000XM3s. Sony's signature bass profile is powerful and voluminous. The only competition here are the new Bowers & Wilkins cans.
It's worth mentioning though that using the M3s in different NC modes also seems to change sound quality. For example, NC boosts the bass, and the 'Ambient' mode emphasizes vocals. Stick to the 'Standard' mode if you're listening to a lot of different genres on a daily basis – that way you get to enjoy a more even and balanced profile.
Comfort and Fit
Sony's M3s are super comfortable to wear due to their design:
The headphones are slender, which makes them fit discreetly and closely around your head.
The adjustable headband comes with thick padding.
The cups are deep and fit nicely around the ears.
The cups swivel to the side, so you can wear the cans around your neck without feeling smothered.
They are one of the lightest pair on the market.
The frame collapses down into a compact size, so they are a great traveling accessory too!
Controls
You can control your M3s through touch controls, Sony's mobile app, or with Google Assistant and Alexa.
The app works both with iPhones and smartphones using the Android operating system. You can use the app to control all functionalities such as sound and noise cancellation levels, adjust the sound equalizer, set a timer for noise cancellation, and much more.
The pair also features a "Quick Attention" mode that comes pretty handy:
When you find yourself in a situation where hearing things like announcements or conversations around you is important, simply place your hand over the right earcup – it activates the built-in mics and brings back ambient sounds.
Charging and battery life
At full charge, the 1000XM3s last up to 30 hours wireless and with noise canceling on – an industry-leading figure. They last up to 38 hours without NC.
They also come with a 'Quick Charge' feature:
With just 10 minutes of charging over USB-C, you can get up to five hours of music playback. A full charge takes three hours.
Final verdict
The M3s are definitely the best Sony noise-canceling headphones available today. With their awesome sound quality, excellent noise-canceling abilities, and unrivaled 30 hours of battery life with NC switched on, they are the best alternative to Bose's new cans!
WE LIKE
Excellent noise cancelation
Great sound quality
Powerful bass
Super comfortable
Long battery life
Extra fast USB-C charging
Works with Google Assistant and Alexa
WE DON'T LIKE
Earcups can get hot and sweaty
Touch controls are a bit uncomfortable
3. Bose QuietComfort 35 II – The Second-Best Bose Headphones You Can Buy
Although Bose recently released a brand new pair of noise-canceling headphones (reviewed here), the QuietComfort 35 II still deserve a spot on this list:
The QC 35 series cans are famous for their close-to-perfect noise cancellation abilities and superior comfort.
Highlights
Excellent noise cancellation
Great for bass-heavy genres
Super comfortable
Google Assistant/Alexa compatible
20 hours of battery life
Noise Cancellation
Bose uses both active and passive noise cancellation technologies to reduce background sounds.
Despite Bose's new 700s and Sony surpassing them with their new technologies, the NC abilities of Bose remain truly amazing:
As soon as you put the QC's on, all surrounding sounds fade away. Put on some tunes, and you'll be walking around in your own bubble.
Of course, they won't block all sounds as you'll still hear loud bangs and unexpected noises such as shouting, but they beat everyone else on the market today.
Sound Quality
Together with active and passive noise canceling technologies the QuietComfort 35s are also supposed to offer a 'full range of sound.' Simply put, all music genres should sound equally good with them.
Now,
I'm sure you agree that 'sound quality' is a subjective term as we all hear music differently.
On top of trying out the pair myself, I also did a lot of research and read through a lot of customer reviews. Most people agree that:
The QuietComfort 35s have excellent bass and treble, so styles like electro, reggae, hip hop, and even modern rock sound great with them.
They are not the best for styles with lots of instrumentals, guitar strings, and vocals.
If you listen to a lot of different styles, you might be interested in the new Bowers & Wilkins headphones reviewed below. Although not as popular as Bose, they are able to deliver more consistent quality across different styles.
Comfort and Fit
Bose is synonymous with comfort, and it's undeniable that the QuietComfort series headphones offer a great fit:
The earcups are wide and deep and cover ears in full. The padding of the earcups is very soft and feels very comfortable around the ears.
The frame is also padded, making them good for longer wear. The frame fits nicely around your head, and there isn't any clamping pressure around the ears. Surprisingly, the adjustable frame is not collapsible.
Now, the term 'comfort' is also very subjective:

While some people report feeling too much pressure around their ears, others complain that the cups are too big, etc. The headphones fit me perfectly, but they are too big for my girlfriend, even in the smallest position.

You can't know in advance how any pair will fit you, so before making a purchase, I suggest you find a brick and mortar store and try different models on first.
Controls
You can control your QC headphones through Bose's smartphone app or by using the buttons on the unit:
You'll find the buttons on the right earcup, and you can use them to adjust volume levels, turn music on/off, and switch tracks.
The smartphone app is easy to use and gives you even more control options like controlling device connections, adjusting sound quality, performing firmware updates, and so on.
The QC II comes with an 'Action' button that you'll find on the left earcup. You can customize the button to connect to Google Assistant or Alexa without having to use your phone. If you activate this function, the assistants can send texts, read out notifications, say who's calling, and more.
You don't have to use the button for Google Assistant/Alexa though and can set it up to control noise cancellation levels instead. You can already choose between different NC levels by using the mobile app, but if you're worried about the pressure NC can cause, you'll find it useful if you can control the levels straight from the earcup.
Bonus Features
You can use the headphones for making phone calls, but the feature is buggy, to say the least:
When you accept a call, the sound becomes muffled after a few minutes and the dual-microphone somehow amplifies surrounding sounds, making them audible for all participants. The new Bose NCH 700 are a better fit if you need to make a lot of business calls!
Charging and Battery Life
The QuietComfort 35 second-generation headphones come with a built-in battery that you can charge through a micro USB cable.
It takes a little over two hours from flat to full charge, which is faster than most headphones on this list. The battery life is similar to others at up to 20 hours when used wireless and with NC on and up to 40 hours when used wired.
Final Verdict
Bose's QuietComfort 35 IIs still deserve a spot on our best noise-canceling headphones 2023 list. They sound great with bass-heavy music styles, efficiently block most background sounds, and are super comfortable to wear. If you don't need to use your headphones for making phone calls, this model is worth considering.
WE LIKE
Still one of the most comfortable headphones
Excellent noise cancellation
Powerful bass
Different noise cancellation levels
Work with Google Assistant and Alexa
Battery length is 20 hours
WE DON'T LIKE
The Bluetooth range is shorter than advertised
Doesn't sound good when listening to guitar strings and vocals
The built-in mic amplifies background noise when making phone calls
Despite Sony releasing an upgrade of this model in 2018, the WH-1000XM2s are still a great pair if you can get your hands on them: you get excellent noise cancellation, deep voluminous bass plus they are very comfortable to wear.
Below is a comprehensive review of the model's key features.
Highlights
Almost as good as Bose in terms of noise cancellation
Powerful bass
Sound quality is genre-dependant
Very comfortable
Google Assistant/Alexa compatible
Noise Cancellation
Already in 2018, the 1000XM2s were the only headphones that could compete with Bose QuietComfort 35's in terms of noise-canceling:
Sony's digital NC features and 'Adaptive Sound Control' technology silence most background sounds. Mind you, they are not perfect – and neither is Bose for that matter – but they do a decent job.
You can choose between different NC modes. A unique feature that you won't get with most NC headphones (including Boses QC 35s) is the 'Ambient Noise Mode' that activates the built-in mics and lets in certain sounds such as announcements over a loudspeaker, etc.
One of the main issues people have with the WH-1000XM2s is that the headphones switch off after 5 minutes when you disconnect from Bluetooth or remove the audio jack. That is very annoying for people who want to use the cans in wireless mode to block out surrounding sounds while studying or sleeping on a plane, for example.

Now, Sony did fix this issue with the new model, but there's a workaround with the M2s too: just plug a cut-off audio jack in your headphones, and they won't shut off until it's disconnected. Not perfect, I know, but the best option you have.
Sound Quality
When compared to some of the other models reviewed here (such as Bose NCH 700 or Bowers & Wilkins), the second-generation 1000Xs are somewhat lacking when it comes to sound quality.
The problem is that the quality of music playback really depends on the genre you play:
Sony is famous for its powerful bass profile and the M2s lean heavily towards the low-end sounds. Genres like contemporary rock, hip hop, and rap sound fantastic with them. What they can't handle very well are the mid-range sounds. Instrumentals, classical music, and vocals (especially female vocals) sound muddy and somewhat flat.
Again, Sony has fixed this issue with the WH-1000XM3s reviewed above.
Comfort and Fit
Sony's M2s are only slightly less comfortable than the new M3s due to the latter coming with a narrower frame and more headband padding. But when compared to other headphones on the list, only Bose QuietComfort 35 IIs or the new 700s fit most people better.
The earcups are a little bit smaller than that of Bose but generously padded and quite comfortable for longer wear. The headband is padded as well and not too tight – it doesn't apply any uncomfortable pressure on your head.
The frame folds into a compact shape and fits nicely in the provided case. The M2s (and the M3s) are one of the best noise- canceling headphones for traveling because of this feature!
One of the main issues with the original WH-1000X models was that the headband cracked very easily for some people. The design of the 1000XM2 is the same, so many people are left wondering whether this could become an issue with the M2s as well. According to Sony, the problem was with a specific batch of the first-generation headphones, so this shouldn't be a problem anymore.
Controls
You can control your M2 noise-canceling headphones through a mobile app, touch controls, or voice commands through Alexa and Google Assistant.
The mobile app works with both Android phones as well as iPhones, and you can use it to control many different features such as control your playlists, adjust noise-canceling levels, or choose between different NC modes.
The M2 comes with a built-in 'Adaptive Sound Control' feature that should detect whether you're sitting, walking, or traveling and then adjust the NC levels accordingly. The idea has a lot of potential, but unfortunately, Sony hasn't been able to quite perfect this yet.
The headphones should also adjust to your altitude when flying and optimize for atmospheric pressure. This feature is useful if you are sensitive to air pressure when flying, but if not, you probably won't notice any difference.
You might find the controls a little bit uncomfortable to use as they are quite sensitive. The pair sometimes confuses pushing the button for swiping forward and ends up changing the song instead of adjusting the sound.
Bonus Features
One unique feature that sets Sony's M2s and M3s apart from other noise-canceling headphones is the 'Quick Attention' mode. When you need to quickly lower volume levels (like when someone comes up to talk to you), you can just place your hand over the right earcup, and the headphones react accordingly.
Unfortunately, like the 'Adaptive Sound Control' feature, this one too is unreliable and doesn't yet work 100%. The M3s seem to be much better at this task though.
Charging and Battery Life
Charging from flat to full power takes around 4 hours and gives you about 20 hours of listening time in wireless mode. The 'Quick Charge' option gives you about one hour of music playback after charging for just 10 minutes.
Final Verdict
Sony's WH-1000XM2 are a great alternative to the upgraded M3s released in 2018. You get excellent bass for listening to genres such as hip hop and rap, decent noise cancellation second only to Bose and a pair that's very comfortable to wear even for longer periods.
WE LIKE
Powerful bass
Great noise-canceling abilities
Super comfortable
Long battery life (20 hrs. wireless)
Fast charging option
Google Assistant and Alexa compatible
WE DON'T LIKE
Not that great for mid-range sounds (vocals, instrumentals)
Some people find the touch controls too sensitive
Not all features work as advertised
The original PX headphones by Bowers & Wilkins were among the top noise-canceling cans to buy in 2019. They were pretty much unrivaled regarding sound quality and offered decent noise cancellation as well.
With the arrival of the new Bose and Sennheiser headphones at the end of 2019, the Bowers and Wilkins cans took a backseat. Until the company released their new and updated pair of PX7s in October, that is.
The new model is a significant improvement over the previous-generation PX headphones, featuring a more lightweight and comfortable design, more sophisticated noise cancellation, improved sound quality, and Qualcomm's new aptX Adaptive Bluetooth codec.
Highlights
Improved noise cancellation
Amazing sound quality
USB-C fast charging
Lighter and more comfortable than the old model
Bass could be stronger
Can't be used when the battery runs out
Noise Cancellation
Like the old PX headphones, the new PX7s use active noise cancellation technology and let you choose between three customized modes:
'Low,' which limits background noises but lets in enough sounds to keep you aware of nearby conversations.
'Medium,' which reduces city noises but helps you stay aware of your surroundings.
'High,' which blocks out loud noises like cabin sounds or train clatter, making them the perfect headphones for traveling.
The fourth mode, which activates when you hold down the dedicated noise cancellation button on the left earcup, lets the outside world in for a moment in case you need to dip into a conversation quickly or want to hear a public transport announcement.
Although all improved NC levels are pretty effective, they aren't as sophisticated as the new Bose 700's are capable of. Nonetheless, the PX7s are still a top contender in this category.
Sound Quality
The Bowers & Wilkins PX headphones were already some of the best-sounding around. The new PX7s further improved on that, beating even Sony's WH-1000XM3s!
If you listen to music from lots of different genres, these headphones are the perfect choice for you:
The PX7s sound great when listening to instrumentals, vocals, classical music, and rock – the highs are crisp and detailed, the mids are fleshed out, and bass is just powerful enough to please most people.
That said, the bass is still somewhat lacking, especially when compared to Sony's and Bose's headphones. If your taste leans more towards bass-heavy genres, these might not be the right pair for you.
Comfort and Fit
The PX7s are pretty similar to the old PX model in terms of design:
The headband and wide earcups are thickly padded, coming with a modern fabric finish. Their smart and stylish look is further enhanced by the earcups' new, more streamlined design.
The earcups fit nicely around the ears and apply just the right amount of pressure to provide a good seal. The thick, soft lining material around the headband feels pleasant around the head as well.
While the PXs have always been comfortable, they were pretty heavy, which made wearing them for longer periods quite uncomfortable. Thankfully, the arms of the new PX7s are made of a custom carbon fiber composite instead of metal that makes the pair about 25 grams lighter.
You can adjust the frame to the size of your head, but the earcups are not collapsible, which makes transport and storage a bit annoying. They do come with a stylish hard shell carrying case, though.
Controls
You can control basic features using the buttons on the earcups or through a smartphone app. The app lets you control everything from playlists to choosing between different noise cancellation modes to adjusting the sound quality.
Bowers & Wilkins, like Sony, has put a lot of effort into developing unique features that you can't find on other headphones:
For the PX cans, this feature is called 'Intuitive Control' that lets you play and pause music automatically:
To pause music, take the headphones off or hang them around your neck.
To resume music, put the headphones back on.
Like Sony's 'Quick Attention' mode, the 'Intuitive Control' feature is still a little bit glitchy:
It doesn't always recognize whether the pair is resting around your neck or whether you're wearing them around your head. That may make the music start at random times. They may also sometimes turn themselves off when you move a certain way.
Charging and Battery Life
While the previous PX model delivered about 22 hours of music playback on a full charge (wireless, NC on), the PX7s come with an increased battery life of up to 30 hours. The only other pair of headphones on this list with this much battery power is the Sony WH-1000XM3s.
The new PX7s also support fast USB-C charging, with 15 minutes giving you about 5 hours of audio playback.
Surprisingly, the PX7 headphones are still 'active headphones' only, which means you won't be able to use them (even wired) when the battery runs out.
Final Verdict
Bowers & Wilkins definitely took a leap forward with their new PX7 headphones. The pair features a beautiful, more modern, and streamlined design. They are very comfortable to wear thanks to the new, lightweight carbon composite frame and thicker padding.

The PX7s also come with more sophisticated noise cancellation and even better sound than before. They are definitely a great alternative to Bose or Sony if canceling our noise is not your main concern!
WE LIKE
Sound great with almost all music styles
Improved noise cancellation with 3 levels
Improved sound quality
Beautiful and modern design
Very comfortable to wear
Battery life is 30 hours
Quick-charge option
WE DON'T LIKE
Won't work when the battery runs out
NC is not their best feature
Lack of bass enhancement
6. Sennheiser HD 4.50 – Best Budget Noise-Canceling Headphones (Under $200)
Sennheiser's HD 4.50 noise canceling headphones are an upgrade of the company's previous models, including the widely popular HD1 cans.
Read our Sennheiser review to learn why the HD 4.50s are the best budget NC headphones under 200.
Highlights
Budget-class headphones
Decent noise cancellation
Great sound quality
Strong bass
Not the most comfortable pair
Noise Cancellation
Sennheiser uses NoiseGard, an active noise canceling technology for the HD 4.50s to block out surrounding sounds.
NC with these Sennheiser cans is pretty impressive considering their price:
The earcups fit tightly around your ears and block out most noise even with NoiseGard deactivated. When you turn it on, you'll find the silence even more impressive. Of course, they aren't as good as Sony or Bose, but they aren't that far behind either.
Activating the noise cancellation function is where you might run into trouble:
To turn NoiseGard on, you need to press on the up and down volume buttons at the same time and hold them for about three seconds. It takes a bit of time to get the hang of this move and turning NC on is definitely trickier than with other similar headphones.
Sound Quality
Now, the sound quality of these Sennheiser HD 4.50 headphones is quite impressive too:
When compared to some of Sennheiser's older models (including the HD1s), the 4.50s come with wider frequency response. They have powerful bass with good definition, and I can't complain about the treble either.
Surprisingly, even the mid-range sounds and highs that many other pairs can't handle at all sound very natural with the 4.50s. Although not quite as good as the top-quality brands reviewed here, the HD 4.50s offer decent sound considering their price.
Comfort and Fit
Comfort and how well the headphones fit seems to be one area where the brand had to compromise to offer budget price:
The headphones do come with padded earcups, a padded headband, and soft leatherette lining, but they just don't feel as comfortable as Bose's or Sony's models.
It could be because the earcups are smaller and don't fit tightly around bigger ears (they didn't fit mine). The frame is also smaller and narrower, so it kind of pressed the cups and headband too tightly around my head. It was a better fit for my girlfriend although she still prefers the M3s and QC 35s in terms of overall comfort.
Controls
Controls are located on the right earcup. You can use the power button to switch your headphones on and off, the track button to switch between songs, the slider to adjust volume and to turn NC on.
Sennheiser does have a mobile app called 'CapTune' that you can use to optimize sound and manage your playlists, but you can't use it to control or adjust the features of your headset.
Charging and Battery Life
You get just under 20 hours of music playback with noise cancellation activated on a full charge. The battery life is pretty much equal with most other headphones on this list.
When you keep noise canceling deactivated, you can extend the battery life for another five hours.
Final Verdict
Sennheiser's HD 4.50 are the best budget noise-canceling headphones for 2023 – you get surprisingly high-quality sound and decent noise canceling. They don't come with any fancy features, but if you just want to escape everyday noise without compromising on sound quality, you have found your pair.
WE LIKE
Strong and well-defined bass
Surprisingly good with mid-to-high range sounds
Decent noise cancellation
Great price
WE DON'T LIKE
Not as comfortable as other top brands
No mobile app to control them
Turning NC on is a bit of a hassle
Things to Consider Before Buying Noise-Canceling Headphones?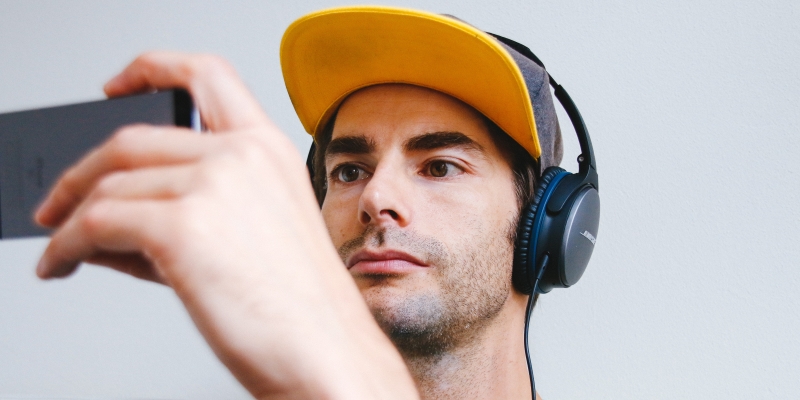 Before we dive into the buying guide, we need to talk about your priorities.
Do you care more about the headphones' noise canceling abilities (meaning – is blocking out background sounds your priority)?
OR
Is the sound quality they offer more important?
At $300 and more, you'd expect to get a pair that does both things equally well, but unfortunately, that's not the case. So, before you can even start looking at specific models, make sure to understand your needs first.
But now, here are the most important things you should consider when buying noise-canceling headphones.
How well they block surrounding sounds
High-quality headphones can efficiently block most ambient sounds such as people chattering around you, noises from the traffic, or birds chirping on the rooftop. There aren't many pairs that can also block non-ambient sounds such as sudden shouting or loud bangs.
Another thing to think about is whether noise canceling works both ways – can people around you hear sounds from your headset?
Sound Quality
Although the term 'sound quality' is subjective, and people evaluate it based on their musical preferences, not all styles of music sound equally well with different brands:
Some brands and models focus more on low-end frequencies such as bass, which sounds great with rap, reggae, hip hop, electronic dance music, etc. Very often, mid- and high-range sounds like instrumentals, guitar strings, and vocals lack clarity with these pairs.
Other brands focus more on mid- and high-end frequencies that have a treble-enhancing effect. With these types of headphones, you'll hear high pitches a lot better. Such headphones are a great choice for fans of classical, country, and folk music or pop and Rock 'n Roll.
It's difficult to say which headphones fit which style, though, so make sure to read customer reviews!
Comfort and Fit
Comfort is the third most important thing next to sound quality and noise cancellation:
Some headphones are uncomfortable because the frame is too tight and applies too much pressure around the head. Others can be too big even when adjusted to the smallest size.
Some pairs put a lot of pressure around the ears for passive noise cancellation. Others may feel looser but let in too much noise from the outside.
Comfort is another feature that's very subjective. You should always try to find your preferred model in a brick and mortar store and try them on before making a purchase online.
Dimensions, Weight, and Practical Design
These features determine how comfortable the headphones are to wear. Lighter sets are more comfortable to wear for long periods and also easier to carry with you.
Regarding size and design, consider whether you can adjust the frame to your head's shape and size or not.
Whether or not the frame is collapsible is also super important, especially if you're looking for noise-canceling headphones for traveling.
Charging and battery life
Most headphones take about two to three hours to charge fully, although newer models use extra fast charging technologies.
Battery life for different pairs ranges from ten to thirty hours when used wireless and with active noise cancelation switched on. You can usually increase battery life by 10 or 20 hours when using them wired.
Frequently Asked Questions
⭐ How Do Noise Canceling Headphones Work?
Noise canceling headphones come in two types – they are either passive or active.
Passive headphones are circumaural and are constructed using thick foam and other high-quality sound-absorbing materials.
Active noise canceling headphones also use sound-absorbing materials. On top of that, they use technology to block ambient sounds from coming in through the headphones. The technology works by actively erasing low-frequency sound waves. To accomplish this, the headphones mimic sounds that reach them from the outside. The mimicked sound waves move in the direction of the incoming sound, thus effectively erasing or canceling it.
⭐ What Are The Best Noise-Canceling Headphones For 2023?
Bose's NC 700 headphones are the best noise-canceling headphones for 2023. With a new design, improved sound quality, and better-than-ever noise cancellation, the Bose 700s beat every other pair on the market today.
If you want more choice just check out the bestsellers from Amazon.
Wrapping It Up
Picking the right noise-canceling headphones is NOT an easy job. If you don't want to pay close to a thousand dollars or more, you're going to have to either compromise on sound quality or on how well a chosen pair can block out surrounding sounds – you just can't have both.
I hope my reviews of the six top-rated products made your choice a little bit easier. If you have any questions or suggestions, please let me know in the comments below.
Last update on 2023-09-28 / Affiliate links / Images from Amazon Product Advertising API