A lot of things need to be factored in when you consider the 'best hikes' in the world.
For some, this could mean beautiful scenery; for others, a challenging yet fulfilling trail. But aren't the truly great hikes a mix of both? Pack up your hiking essentials and start endurance training.
We've put together some of the best hikes from around the world to help you decide which trail to take next.
Samaria Gorge, Greece
Often considered the best hike on the Mediterranean island of Crete, Samaria Gorge takes you through multiple elevations within its 16 km trail. At the beginning of the hike, you'll have to make a descent over steep zigzagging paths before arriving at the stream responsible for the magnificent gorge. Downhill slopes could be strenuous on the joints, especially on the knees, as reported by Harvard Health. Wear shoes with ample support and consider taking walking sticks along with you for additional aid.

After the steep descent, the remainder of the hike would then take you to the most famous spot on the trail where the gorge walls are only some meters apart, and 300 meters high on either side. As you continue on, the trek culminates at the quaint town of Agia Roumeli where you can enjoy the black sand beach.
Exmoor, UK
This is for those who appreciate variety and unique landscapes in a single trek. With over 1000km of bridleways and paths, it can cater people who prefer short strolls up to the most experienced trekkers. A feature on trails in Exmoor by Gala Bingo, notes that you'll find the highest sea cliffs, lowest tides, a heather-covered moorland, oak woodlands, and tumbling rivers along Exmoor. Not only does it have some of the most diverse attractions, it's also one of the friendlier trails on this list, making it a great option for those just starting out.

If you've just recently acquired new gear, this could also be an opportunity for you to test them out without too much risk. You can also use Exmoor as your start off point for longer adventures as several of the UK's long distance routes pass through the national park.
Kilimanjaro, Tanzania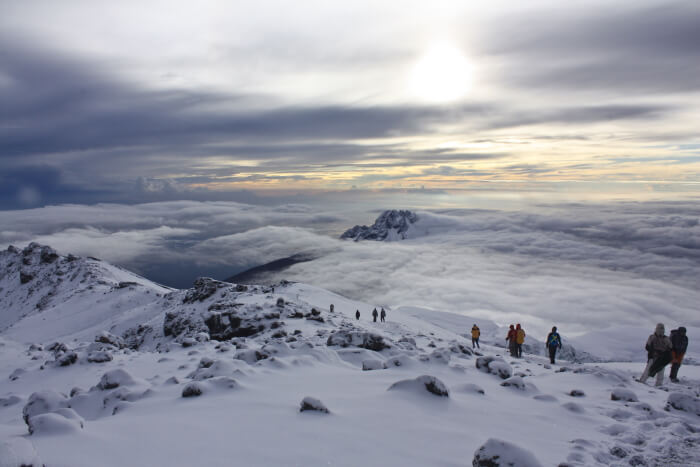 Mount Kilimanjaro is one of Africa's most popular sites, and for good reason. Its view overlooking the Serengeti from the summit is nothing short of spectacular— especially at sunrise. Tens of thousands of hikers attempt to reach the peak every year, and several make it a point to summit at daybreak.

The entire hike going up the peak and down takes approximately six days. The highest area called the Glacial Zone is often covered in snow. When too much UV light reflects off snow and enters your eyes, this can cause temporary blindness called photokeratitis or better known as snow blindness. This is why you should invest in proper eyewear like the ones in our '11 Best Hiking Sunglasses' feature to protect your eyes. Additionally, the average temperature at Kilimanjaro's peak is around -43 degrees fahrenheit, so it'll definitely put your thermal wear to the test, too.
Cloud Forest, Laos
Laos is one of the last strongholds of Indochina's endangered wild tigers, and the Cloud Forest hike is a perfect opportunity for you to catch a glimpse of them. This hike isn't for the faint of heart since you'll need to make your way to the remote area of Houaphan to go on the Cloud Forest Trail. Once there, you can commission a guide to take you to the summit of Phou Louey along the trail.

You'll be staying in bamboo huts overnight and spending time at the Poung Nied Salt Lick— a prime spot to do some wildlife watching —on these multi-day hikes. Your outdoor cameras, binoculars, and other gear will prove to be very useful on this trip. Your guides can even assist you in setting up cameras to catch some footage of the elusive Indochina wild tigers.
Mount Rainier National Park, USA
Itching for a long hike? You don't have to look further than Mount Rainier National Park. Unlike most hikes, the trail takes you on a circumferential trail instead of a steep summiting one, as Mount Rainier stands at just 14,411 feet high. Lots of people make the assumption that this is an easy hike because of this feature.

However, in a comparison by Outside Online, the trail is likened to reaching the peak of an active volcano twice; a total elevation gain of 22,000 feet isn't your average stroll. Plus, this hike takes an average of 10 to 14 days to finish. Make sure to use lightweight gear and camping equipment on this hike. And don't worry about other necessities like food and drink, there are 18 camps and four resupply points along the well-maintained trail.

To be ready for hiking, you need to work on your fitness and make sure that you have all the necessary equipment. Once ready the above hikes are great for testing your equipment and yourself.